Student Perspective: Firsthand Insight into Middle East Culture and Politics for Rob Landicho '08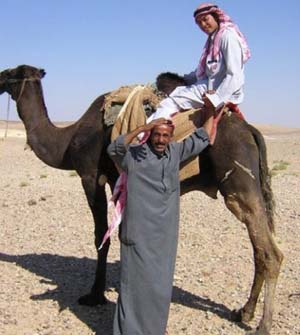 In a time when many Americans lack exposure to the Middle East, Rob Landicho '08 has gained unique insight into a culture that is rarely seen and often poorly understood.
For the fall of his junior year, Rob decided to spend a semester in the Middle East conducting research, taking classes, and practicing his Arabic language skills.
"The School of International Training has study abroad opportunities in over a hundred countries," said Rob. "They set me up with a host family in Amman, Jordan." For six months he lived with his host Palestinian family while taking classes and conducting field research on the foreign aid Jordan receives from the United States. The program counted as 12 credit hours toward his major in International Relations.
Previously Rob had enrolled in a research seminar that was co-taught by professors Sue Peterson and Michael Tierney. He built on that classroom experience by serving as a research assistant for the student-faculty research project "Teaching and Research on International Politics" (TRIP), which analyzes the impact of IR research on U.S. foreign policy and on teaching practices at colleges and universities.
Experience he gained there designing surveys, gathering and coding data, and writing research papers provided Rob with the foundation for his research in Jordan. "I stayed in constant contact with my IR professors and bounced ideas off them about my field research. They always helped me out," said Rob.  However, while research at William and Mary meant late nights in Swem Library and the application of statistical techniques to quantitative evidence, field research in a developing country was a unique experience.
With his research, Rob aimed to evaluate the effectiveness of USAID and Millennium Challenge Corporation aid programs intended to enhance Jordan's infrastructure. His program advisor, former Foreign Minister Jawad Anani, helped to arrange interviews with Jordanian officials, staff members at the American embassy and with American contractors who administer the aid programs.
"Overall, the findings were mixed. Many of the aid programs accomplished their goals, but others were riddled with problems. Figuring out what makes aid effective is really important in this case since Jordan receives more than $500 million a year in U.S. aid. A large part of my research focused on problems of delegation, unintended consequences, and inefficiencies in the aid programs." Rob hopes to use the data he collected in Jordan as the foundation for his honors thesis and to publish his findings in a scholarly journal.
Along with his academic work, Rob was able to experience local life in urban and rural settings. "My program got me in touch with a Bedouin tribe, and they agreed to let me travel with them and help herd sheep for two weeks. At first they didn't know how to deal with me. But when they realized I was going to work alongside them, they were very open and friendly."
Living in a tent with two Bedouin men, traveling on camels, and herding and slaughtering sheep, Rob had the opportunity to learn more deeply about local perspectives – and put his W&M instruction in Arabic to use. "Bedouin herders rarely meet American students, and they had plenty of questions about America, especially American family life. They were very curious about how American families were similar and different from their own." In addition to questions about family the Bedouin herders expressed some interest in American policy in the region.  "It was definitely surprising to overhear some conversations about the U.S. role in Iraq, and their concern about Israeli policy as well.  By the end of the trip, I was able to empathize with their experiences and their political situation."
"There's a lot of information in the media and scholarly literature about the conflicts, development, and governments of countries in the Middle East. Once you actually experience these situations firsthand, however, your deeper understanding of the region can definitely improve your prospects for doing good research. Plus, you have experiences that you'll remember for the rest of your life," Rob said.
Rob's experience in Jordan has given him a leg up on future projects and career opportunities. Over the summer of 2007 he will participate in the W&M intern program at the U.S. Mission to the NATO headquarters in Brussels. Rob and four other W&M students will be working there in various divisions, from defense policy and post-conflict reconstruction to legal affairs. The College's NATO internship program is unique among U.S. colleges and universities.
May 2008 update
Rob graduated with departmental Honors and sends this news: "I'm pleased to let you know that I have received a Fulbright research grant for Jordan for 2008-09. Currently, I'm in Morocco leading the WM Choir and Chamber groups through a 20-day singing tour, so I can't talk too long before this internet runs out. Best from Tangier, Morocco!"