Student Perspective: A Campus without Borders for Amy Rossnagel '06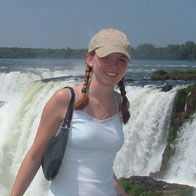 "What I liked about the International Relations major was the ability to choose my own direction. On campus I could pursue my interest in developing nations with classes in Government, Economics, and Environmental Studies. Then there were all these opportunities to learn on the ground in other countries," noted Amy Rossnagel. "It was a wide perspective. I'm happy with how everything came together for me."
Amy participated in a summer study abroad program in China, which offered two Chinese language classes and another course in Chinese culture. For two months the students studied in Beijing. They also traveled the Silk Road. "The whole experience was eye-opening and a little unsettling. For the first time I felt like a complete outsider. In traveling around we got to see firsthand how economic development can affect a country. There's a huge difference between the prosperity in the coastal areas and the undeveloped areas to the west."
 Through the School for International Training, Amy studied one semester in Buenos Aires, Argentina. Credits earned there counted toward her William and Mary degree. She lived with a host family that didn't speak English. "It really helped my Spanish. I'm still in touch with the family and plan to visit them this summer."
The program was part of a regional study that involved travel to neighboring countries. "We went to Brazil for a week to examine the labor movement there. In Uruguay it was political parties." In Paraguay the group worked on issues related to peasant squatters, staying in makeshift buildings with thatched roofs "and a lot of spiders."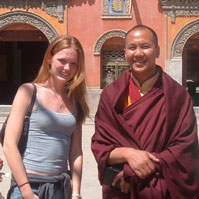 Amy followed up that semester with a summer internship in microfinance, back in Argentina, through the nongovernmental organization Avanzar. She shadowed a loan officer whose portfolio included very small businesses in Buenos Aires. Many of the borrowers were immigrants from Bolivia.
In her final semester, Amy drew on the summer internship experience to write an Honors thesis. "It was a lot of work. I kind of made Morton my home for a while." She defended her thesis successfully and graduated with honors in May 2006.
Back on campus, she got the chance to work closely with professors. "I was amazed at the kinds of resources professors can open up for you. Students should really make an effort to connect with professors early on."
What's next after graduation? "I had my next steps all planned out. Fordham University offered me a full ride in their graduate program, and I figured that would lead to work at the U.N. or the World Bank." Then word came that she'd won a Fulbright Scholarship to study in Sweden, a chance she couldn't pass up.
"I'll be studying at Uppsala University, in their master's program for international humanitarian action and development. It's a one-year program focused on peace and conflict resolution." This summer she will matriculate at Fordham to begin the program there, then complete the Fulbright in Sweden.
"Ultimately I'd like to help implement projects on site, and give people the tools to help themselves. There are a lot of interesting initiatives with post-conflict resolution in areas like the Balkans."