Model U.N. Team Brings Home Championship from China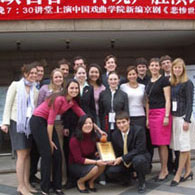 For the third consecutive year, William and Mary's Model United Nations team brought home top honors from the world championships.
The team, which won the Outstanding Delegation Award, finished first in Harvard University's World Model UN Conference held last month in Beijing, China. The team competed in areas of diplomacy against 1,400 delegates who came to the conference from 37 different countries.
"World MUN is very competitive, but it is also unique in the sense that it is international," said Katie Spatz, president of the William and Mary International Relations Club, which sponsors the Model UN team.
Spatz described her experience in Beijing as "really fulfilling," despite the typical stress that comes with traveling halfway around the world to compete against some of the best college debaters in the world, the culture shock, the language barrier, and the occasional performance anxiety.
"It was a hard, enriching, eye-opening experience for all of us given our interest in international relations, and it helped some of the underclassmen to question themselves about their career choices," said Spatz, one of 17 delegates William and Mary sent to China.
The conference is a simulation of the real-life United Nations. Students attend the conference as delegates; they represent and debate different international issues.
Spatz said the entire William and Mary team made an effort to help delegates from other nations, including those from non-English speaking countries. They encouraged everyone's participation, she said, even if they supported a different policy. Part of the idea of the Model UN conference is to bring people together and to use diplomacy in solving disputes.
As a result, they returned home with another Outstanding Delegation Award, the highest honor given at the conference. The team previously won the world championships in 2004 and 2005.
"You are there to gain an interesting experience just by being around all these people from completely different backgrounds and with completely different perspectives, not just to compete," Spatz said. "That's the point of participating at World MUN."
The conference, Spatz said, sometimes forces delegates to take a side they would not normally agree with.
"Representing other countries really forces you to see everything from another perspective, to respect other people's culture and point of view, and recognize the important role of the United Nations institution in international affairs," she said.
According to the IR Club president, the team's quality can be attributed to its intense preparation, as well as to the reputation it has built after years of winning the Outstanding Delegation Award at World MUN. The success, she added, is the team's best recruitment tool. Each year, team members hear from incoming students who want to participate and join the club.
"Many people have decided to come to William and Mary because of the IR Club. It brings publicity to the school," said Spatz, who added that after the team started winning world championships, more and more prospective students took notice of their accomplishments. "At the activities fairs, freshmen tell us that they've heard a lot about us and are eager to join. We try to give back something to our school in that respect."
Participation has many benefits for the students, including socializing, meeting people from different backgrounds who share a common interest, and participating in prestigious conferences like World MUN, Spatz said.
"Perhaps the biggest payoff is always being comfortable to speak in front of committees of up to 300 people unknown to you and always managing to do the most important thing-get your message across," Spatz said. "You understand the importance of this skill much later when you have to defend a thesis or attend a job interview."
The IR Club president's experience reveals that there are simple strategies that can prove helpful to people who desire to refine their communication skills.
"If your goal is to communicate better, just slow down and ask yourself, Is what I'm saying going to make sense? Is what I'm saying necessary?" Spatz suggested.
"Taking a step back and trying to understand what it is like to be in somebody else's shoes also helps you express your ideas positively. That's the take-home message we give our delegates, and it has proven extremely effective advice."
Spatz hopes to continue building on the team's success. She encourages students from all backgrounds to put aside their reservations regarding speaking in public and take a leap of faith by joining the club's activities.
"If you are brave enough to take that step, you'll be a member of this big family-and I think it's a great family to have, because it requires you to be giving, to be inclusive and to really enjoy yourself by doing things together," she says to future recruits. "Every one of you and your opinions are welcome."