College ranks sixth in nation as producer of Peace Corps volunteers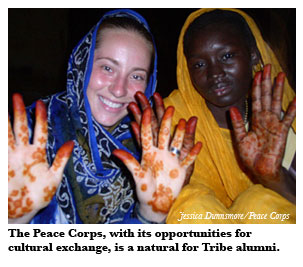 The spirit of service that thrives in William and Mary undergraduate students does not end at graduation.The fact that this year 42 College alumni are volunteering with the Peace Corps has placed William and Mary again on the recently announced list of top colleges and universities to produce Peace Corps volunteers. The College moved up four spots since last year to be ranked sixth out of the top 26 medium-size colleges and universities. Since the inception of the Peace Corps in 1961, 475 William and Mary alumni have joined its ranks to position the university as the No. 82 producer of volunteers overall.
"We're much heartened, if unsurprised, to learn once again that William and Mary's extraordinary young women and men are a signal part of the Peace Corps' efforts," said William and Mary President Gene R. Nichol. "We can hope for no better use of the training in engaged, ennobling, international education they find at the College. They inspire."
William and Mary was one of only four Virginia schools included in the rankings. The University of Virginia was ranked second in the medium-size-school category. James Madison University ranked No. 14 in the large-school category, and the University of Mary Washington ranked No. 5 in the small-school category.
Because the College offers strong cross-cultural, volunteer and study-abroad programs, William and Mary alumni are a natural fit for the Peace Corps, whose mission focuses on service and promoting understanding. Volunteer service is already a significant part of undergraduate life at William and Mary. According to a recent survey, 75 percent of all undergraduates volunteer during their time at the College. William and Mary students volunteer about 323,000 hours of community service per year. Much of that interest transfers into increased alumni service, such as volunteer work in the Peace Corps, which is celebrating 45 years of service at home and abroad.
Since 1961, more than 187,000 Peace Corps volunteers have served in 139 countries and have worked in a variety of areas such as education, health, HIV/AIDS education and prevention, information technology, business development, the environment and agriculture. Service in the Peace Corps entails a 27-month commitment.
"Peace Corps allows graduates to take their skills outside the classroom and make a real difference in the lives of people who can most use their help," Ron Tschetter, the Peace Corps director, said in announcement about the top-colleges list. "The over 1,200 institutions of higher learning that have volunteers overseas, sharing what they have learned, should be proud of their contributions."
William and Mary consistently ranks near the top of volunteer service among medium-size schools. Schools are ranked according to the size of their student body. Small schools are those with fewer than 5,000 undergraduates, medium-size schools have between 5,001 and 15,000 undergraduates, and large schools are those that have more than 15,000 undergraduates.
For 20 years, the University of Wisconsin-Madison was the top producer of Peace Corps volunteers, but the University of Washington's 110 currently serving alumni moved that school into the top spot this year for the first time since 1981. All three of this year's top producers are new to their spots. In the medium-size-schools category, George Washington University vaulted four spots into first place. In the small-schools category, the University of Puget Sound also jumped four spots to the top.