Ashley Kramer '08: Understanding Economic Reconstruction in the Balkans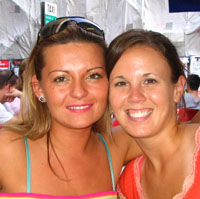 In the spring of her Junior year, Professor Tierney suggested Ashley Kramer '08 stop by his office to discuss her pending Honors thesis.
The previous semester Ashley had studied and visited the Balkans, where she met with academics and politicians to learn about that area's post-conflict reconstruction process. Tierney suggested that she undertake a research project there building on her experience and encouraged her to explore this idea with Professors Paula Pickering and Naomi Levy, both experts in the field.
Funding for this kind of student research is offered through the W&M Charles Center. One possible catch: "The deadline for applications was the next day!" Ashley said. "I stayed up that night writing my proposal" and was awarded a $3,000 grant to travel to Bosnia-Herzegovina and collect data for her project. Based on early assessments from her Honors thesis committee, that was money well spent.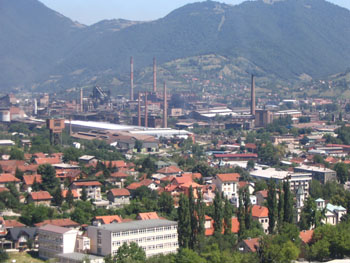 "I'm really interested in the economic side of restructuring," said Ashley, who is also minoring in economics. "So much of post-conflict assistance focuses on political restructuring, or rebuilding the physical infrastructure. But until people believe they can improve their lives and begin to re-engage on the economic side, to have a stake in their community, the entire restructuring process is at risk."
Professor Pickering, an expert in ethnic politics with deep experience in the Balkans, helped Ashley to develop and refine her research methodology (she's also serving as Ashley's thesis advisor). "That spring I was taking a government class with Professor Levy, and she knew all about my project. She was able to target my classwork toward areas that helped with my research."
Gathering Data in Bosnia-Herzegovina
After extensive planning and support from her professors, Ashley set out that summer for three cities in Bosnia-Herzegovina. "I stayed for three weeks," she explained, "and divided my time between Sarajevo, Zenica, and Tuzla." To bridge the language gap, Ashley used some of her funds to hire a translator. They traveled together, staying in hotels or shelters and driving between cities.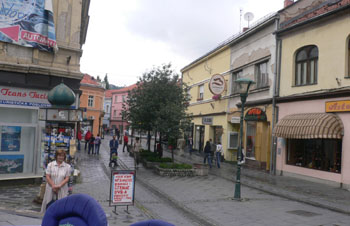 Ashley collected data to examine the relationship between the type of institution involved and its ability to engage in effective economic reconstruction. "Is there an ideal cooperative arrangement," she wondered, "where we can capitalize on their strengths? I had three independent variables: resources, local knowledge (do they employ locals, how well do they know the community), and organizational interests (do they actually care about pursuing reconstruction, or is there some other goal in mind, such as consolidating power along ethnic lines). The dependent variable was the effectiveness of the organization."
"I was looking for objective economic indicators," she continued. "A lot of the info in print is not available in the United States--GDP per capita, unemployment numbers, et cetera." Ashley conducted a series of in-depth interviews with different organizations involved in reconstructing the economy. She spoke with officials from the World Bank, USAID, the Office of the High Representative, local chambers of commerce, and local development agencies of her three target cities.
She also examined the economic restructuring from the stakeholders' perspective--the people whose daily economic participation or apathy will help determine the country's future prospects. "Unemployment levels now are around thirty percent or so," Ashley said. "In downtown Sarajevo there's this big chessboard with enormous chess pieces. In the middle of the day, when you're expecting everyone to be at work, tons of people will be milling around that chessboard."
Ashley and her translator went to public spaces and distributed a short survey to citizens. "We surveyed people who worked in shops, people sitting around in cafes. We would go through these pedestrian areas and [my translator] would say, 'Are you interested in completing a survey about economic reconstruction?' We would leave the surveys with them, dropping off maybe twenty-five at a time. Some people didn't want to talk about it; they thought it was a lost cause. We wanted their opinions: Were they aware of any organizations that they felt had been successful? We also collected some demographic information--age, gender, where they were during the war." In total, she surveyed 150 people.
This spring, as she works toward completing her thesis, Ashley is attending a seminar for Honors candidates led by Professor Manna. "He talks us through areas and provides support with data analysis. It's been really helpful."