Annan Recognizes College's Model UN Success
Five members of the College's International Relations Club were recognized recently in New York by Kofi Annan, secretary general of the United Nations, for their winning three consecutive Model UN championships.
Team members, who were accompanied by Mitchell Reiss, vice provost for international affairs at the College who arranged the ceremony, were treated to lunch with the South Korean ambassador to the UN and had the opportunity to meet with other officials while there.
Kendra Wergin, president of the International Relations Club and pictured to the right of Annan, called the recognition "incredible." She said, "I, in particular, was overwhelmed about 10 minutes before we met Kofi while we were sitting in his foyer on the top floor of the UN Building." Upon being ushered into his office, she immediately grasped why he has had such success as a diplomat-"He is one of the most unimposing people I've ever met," she said. "He has a naturally quiet voice and a calm demeanor. We would have known he was someone important even if we hadn't known who he was." After handshakes and questions from Annan concerning their plans after College, the team members asked a few questions, including what Annan plans to do following his stint as head of the UN. He replied that he "wants to go on holiday for a long, long time," according to Wergin.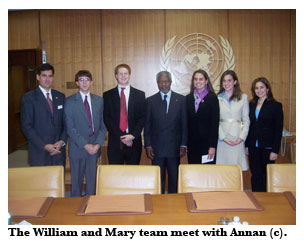 Each of the five students were chosen for the trip from the executive board of the College's International Relations Club. They were Christine Daya, secretary general of the William and Mary Middle School Model United Nations Conference, Summer Marion, vice president for campus affairs, Brandon Smith, director of finance, Alan Wehler, director of communication, and Wergin. All five regularly compete in Model UN conferences. Wergin attributed the success of the William and Mary teams to the fact that members are "good speakers and writers" and, most importantly, "by being the most diplomatic delegates in the [competition] committees."
Team members are concentrating on winning their fourth consecutive Model UN championship in Geneva this year. "All of us will definitely feel pressure not to break our winning streak," Wergin said. Concerning the importance of the competition, she added, "it allows students to understand in depth the process of negotiations between countries and the factors that can inhibit or promote cooperation for global action. For the many international relations majors on our team, it's an unbeatable way to put into practice the ideas we discuss in the classroom and learn more about the many issues facing the UN today.