Ways to Contribute
The History Department appreciates your generosity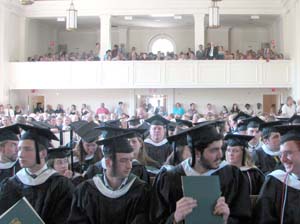 You can contribute online now with your credit card, using our secure web server. On the contribution form you will see "History (0074)", which supports the History Department and its students directly. If you scroll down, you will also see specific, designated funds such as the Craig N. Canning and Nancy M. Canning Asian History Award (4470), the Ed Crapol Award in Modern U.S. History (3925), the Judith Ewell Award in Comparative and Transnational History (3936), the James N. McCord European Studies Award (4274), and the John Boswell Memorial Lecture Series Endowment (3329).
Contribute by Mail
To contribute by mail, make your check payable to the William & Mary Foundation. To designate your gift, please be sure to note "History (0074)" in your check's memo area.
Mailing address:
William & Mary
P.O. Box 1693
Williamsburg, VA 23187-1693
Securities
Gifts of securities, such as stocks and mutual funds, can be a strategically effective way to support the programs of William & Mary. Please contact the Gift Accounting Office (757-221-1008; [[gifts]]) to make your gift using securities.
Deferred Gifts
We encourage you to consult the Gift Planning Office when making a bequest provision in your will, retirement plan, or other estate plan. This office can provide the appropriate legal name and language to ensure that your bequest can be used the way you intend.
Matching Gift Program
Many companies encourage employees, their families, and retirees to make charitable contributions by matching their philanthropic support. Matching gifts can double, or even triple, the impact of your igift. Your Human Resources office will be able to tell you if your employer has a matching gift program and provide details on how to secure the matched funds. You may also use the College's Matching Gift Search page to see if your company has a matching giving program.
For More Information
To further explore giving options that will be meaningful and beneficial to you, please contact [[as-development, Arts & Sciences Development]].
Gifts supporting the departments and programs of Arts & Sciences at William & Mary are tax-deductible according to regulations governing section 501(c)(3) of the IRS code.