On April 30, 2012, Barry Martin, William and Mary class of 1959 presented the Lyon G. Tyler Department of History with a portrait of Carter Braxton (William and Mary alum, and signer of the Declaration of Independence), and a document signed by Braxton  in honor of his classmate, Gabriel M. Wilner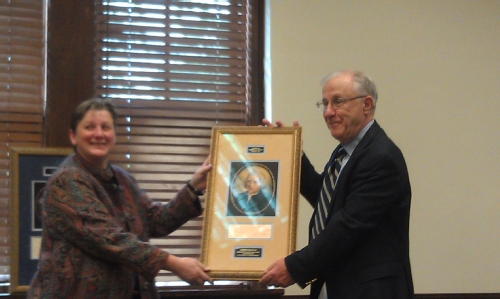 (Leisa Meyer, the history Department Chair and Barry Martin '59, picture by Amy Schindler)
Gabriel M. Wilner, LL.D
(1938-2010)
Gabe Wilner received his A.B. in Government from the College of William and Mary in 1959.  As student body President and Chief Aide to the President, he proudly carried the College Mace in ceremonial processions.  He was a Flat hat columnist, Balfour-Hillel president, Pi Lambda Phi secretary, Omicron Delta Kappa member, and first W&M-University of Exeter Exchange student.
After graduating from Columbia Law School and working at the United Nations, he joined the University of Georgia Law School faculty in association with former U.S. Secretary of State Dean Rusk.  He founded and directed the Brussels Seminar on European Law.  Beloved by his students, he enjoyed a distinguished career as a teacher, author and consultant on international law.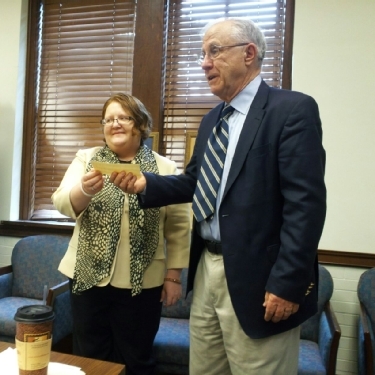 (Amy Schindler and Barry Martin '59)
Document signed by Carter Braxton
Carter Braxton (1736-1797) graduated from William and Mary in 1775 and represented King William County in the Virginia House of Burgesses.  He resolved the dispute between Patrick Henry and Royal Governor Dunmore over the seizure of powder from the Williamsburg Powder magazine.  Braxton signed the Declaration of Independence and suffered severe financial losses during the Revolutionary War.