McGovern a finalist for Virginia Award for Non-Fiction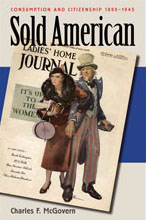 Charles McGovern's new book, Sold American: Consumption and Citizenship, 1890-1945, was a finalist for the 2007 Virginia award for Non-Fiction.
McGovern's latest book explores the emerging consumer culture in the United States at the turn of the twentieth century. He investigates how advertisers and consumer advocates battled over the shape of that culture. The book was published by the University of North Carolina in 2006.
Professor McGovern is a former curator at the National Museum of American History in Washington, D.C., and is coeditor of Getting and Spending: European and American Consumer Societies in the Twentieth Century. He is associate professor of History at the College of William and Mary.