Hoffman Receives Editing Award for Dear Papa, Dear Charley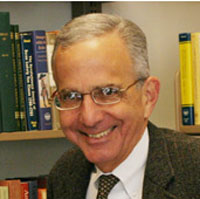 The extensive collection of correspondence between Charles Carroll of Carrollton (Charley), the only Roman Catholic signer of the Declaration of Independence, and his father, Charles Carroll of Annapolis (Papa), contains a thousand mysteries. For the past two decades, Ronald Hoffman, director of the College's Omohundro Institute of Early American History and Culture, along with Sally D. Mason, assistant to the director of the institute, have engaged and unraveled nearly every one.
Their efforts ultimately resulted in the three-volume collection of letters Dear Papa, Dear Charley: The Peregrinations of a Revolutionary Aristocrat, which won the 2005 J. Franklin Jameson Award from the American Historical Association (AHA) this year. The prize, given every five years, recognizes outstanding achievement in the editing of historical resources. In addition, Hoffman wrote Princes of Ireland, Planters of Maryland: A Carroll Saga, 1500-1782 as he struggled to understand the full context of the collection of letters. Originally intended as a 50-page manuscript to introduce the letters, the project ended up being published at 430 pages.
A Roman Catholic Legacy in a Protestant World
The story of the Carrolls that evolves is one of a family that, carrying the memory of its dispossession of titles and lands as Roman Catholics in Ireland, sought to secure an economic empire in Maryland only to face the same threat of dispossession as the colony turned increasingly anti-Catholic prior to the outbreak of America's Revolutionary War.
Understanding the depth of animosity between Roman Catholics and Protestants during the 17th and 18th centuries—"each considered the other an odious form of humanity," Hoffman said—is requisite to understanding the relationship that developed between the father and son, including what Hoffman calls "the ultimate mystery of the story, which is why does Charles Carroll of Annapolis deliberately have a son out of wedlock?" In turn, it explains why the father imposed upon the son a rigorous academic regimen to be accomplished during a 16-year stint of separation in Europe, refusing even to allow the child to return to be with his mother as she became ill and subsequently died. In short, the father was obsessed with producing an heir who would be brought into the line of inheritance only after he had proved himself worthy.
Hoffman explained, "Of the 20 largest fortunes in Maryland in, say, 1720, 10, including the Carrolls', are Catholic, and 10 are Protestant. But these 10 Catholic families cannot hold office, they cannot practice law, they cannot vote, they cannot educate their children in the Catholic Church. In addition, their rights of inheritance are circumscribed."
"Catholics really are vulnerable," said Hoffman, "and what they fear—what Charles Carroll of Annapolis feared—is that at some point the Protestants will move against them, and it will be a repeat of what happened to Catholics in England and Ireland."
The letters themselves are full of respectful exchanges that not only reveal the complex personalities of both men but cast an unusual glimpse into the politics and economics of an America being drawn toward revolution. Among Hoffman's favorites are those in which the younger Carroll instructs his father in how a person of wealth could survive the turmoil of the war. At one point, Hoffman said, the younger Carroll writes, "The price of revolution is a mutation of private property." Another series during the war has the younger Carroll complaining to his father that the "horses do not look very healthy," according to Hoffman, and his father admonishing, "What would you have me do, feed my horses and starve my slaves?"
Certainly among the most poignant letters is the one that the younger Carroll writes from Europe after learning of his mother's death. Dated June 10, 1761, it reads in part:
What fond delusive hopes have I entertained of seeing her again! I was too credulous: all my imaginary Joys are vanished in an instant: they are succeeded by the bitter cruel thought of never seeing more my loved lost Mother: the greatest blessing I wished for in this life was to see to enjoy my Parents after so long a separation to comfort to support them in an advanced age: one is for ever snatched from me. May God almighty Dr. Papa preserve yr. health & grant you a long life; were you to leave me too, oh then I shou'd be compleatly miserable indeed: death wou'd then be the only comforter of a sad, distressed, unhappy son.
A letter from Charles of Annapolis to his son shortly thereafter amused Hoffman for the advice it contained pertaining to the courtship of women. In the correspondence, dated Sept. 1, 1761, the senior Carroll extends the following wisdom:
At yr Age it is Naturall to think of Establishing yr self in the World by Mariage. Whenever you do this yr Future Happyness will depend on the Choice you make. Without yr Wife be Virtuous, Sensible, good natured, Complaisant, Complying & of a Chearfull Disposition, you will not find a Marryed state a Happy one.
That same letter contains the wording that Hoffman chose for the title of the companion book. Again, it is the father who writes:
It is true our Family is not now Decked wth. Titles, But we derive our Descent from Princes & until the Revolution notwithstanding Our Suffereings under Elizabeth & Cromwell We were in Affluent Circumstances & Respected & we intermarryed wth the best Families in the Kingdom of Ireland. As to fortune, Without Ezxageration & without improbable & unforseen Accidents I shall leave you worth at least Sixty Thousand Pounds sterling, & (I fancy) there are not many Roman Catholick Families in the Kings Dominions wh Could give their Dautghters fortunes Proportioned to yours … .
Insights from an Editor of Documents
The AHA award, of course, was for the editing. For the final collection of the Carrolls's letters, which consists of more than 700 documents, Hoffman and his team scrutinized, explicated, annotated and cross-checked thousands of references as they searched out even the most casual allusions. "When you're a document editor, you are not building an argument, which is what historians do about the past," Hoffman said, "you're just trying to explain the setting."
Hoffman does not expect the letters will enjoy a wide readership. The fact that fellow scholars already are making use of the material is all the affirmation he seeks. "Editing documents is a very demanding type of intellectual exercise, one that is not lionized by the profession as much as other kinds of scholarship," he said. "That's why, I guess, the award is only given every five years."
For good measure, Hoffman also was able to extrapolate from the letters some insights that became important as he raised his children. Although he admitted he could never have been as stern as Charles of Annapolis was toward his son, he said, "The virtue of establishing expectations and then not bending on them, while at the same time trying to understand and to be encouraging, was reaffirming of my own approach."
Hoffman added, "The other thing I learned was that the personal relationship between Charley and Papa was so overwhelming that neither man had any relationship that could compare with it. They were so emotionally engaged with one another that it limited their ability to have meaningful relationships outside the father-son relationship. I believed in the importance of having a really close personal relationship with my son, but I've always been cautious not to make that an all-consuming connection."