Ron Hoffman's Princes of Ireland, Planters of Maryland Earns National Awards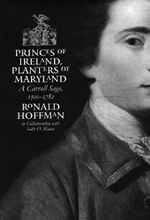 Ronald Hoffman, director of the Omohundro Institute of Early American History and Culture and professor of history, has received the 2001 Frank L. and Harriet C. Owsley Award for his book Princes of Ireland, Planters of Maryland, written in collaboration with Sally Mason.
Awarded every two years by the Southern Historical Association, the prize recognizes a distinguished book in southern history. Hoffman and Mason accepted the award in November at the association's 67th annual meeting in New Orleans. This is the second consecutive Owsley Award won by the Omohundro Institute; Philip Morgan's Slave Counterpoint won the prize in 1999.
The result of more than two decades of writing and research, the book explores the Irish ancestry of the Carroll family of Maryland and reconstructs its tightly woven, slightly scandalous and sometimes tragic intrafamily relationships.
Princes of Ireland, Planters of Maryland was also honored in September with the Virginia Library's award for the best nonfiction book in 2001 by a Virginia author or about Virginia history. "I was greatly honored to be the recipient of the Owsley prize," Hoffman said. "This recognition is particularly gratifying since the Irish context of the book is as critical to its story as its southern dimensions."
The Institute will release a three-volume set of Carroll family correspondence (1748–1782) entitled Dear Papa, Dear Charley in mid-December. The letters contained in the edition are largely those exchanged between Charles Carroll of Annapolis and his son, Charles Carroll of Carrollton, the only Roman Catholic signer of the Declaration of Independence. Hoffman and Mason, along with Eleanor Darcy, edited these volumes.