Pulitzer-winning Historian Proves a Good Neighbor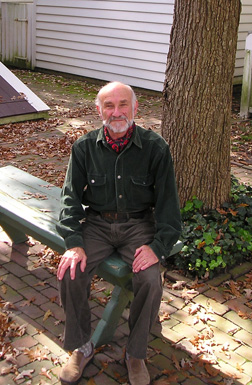 Note: The author, Jacob Rooksby, lived next to Professor Isaac while he was a senior at the College last year. He currently is enrolled in the Law School.
It was a drab day last November when I first was introduced to Landon Carter.
Rhys Isaac, distinguished professor and winner of the 1983 Pulitzer Prize in History, dropped by the College's William Randolph Lodgings in Colonial Williamsburg, where I was living, for a chat. In the wood-paneled main room, he made the introduction.
"Well, here's the start to some of my research," Isaac said, cracking open a large hardbound volume and flipping through its pages. The book smelled musty; its pages showed imprints of fingertips from Isaac's previous thumbing. As he passed it to me, I felt as if I should put on cotton gloves to handle what seemed to be such a relic. Page after page was filled with indecipherable pencil notes and scrawls written sideways in the margins. "Who was this Landon Carter?" I thought, reluctant to show my ignorance in the presence of the venerated scholar whose research I held. It seemed to me as if Isaac had written a book within a book. As it turned out, he had.
Isaac won the Pulitzer Prize for his ground-breaking work The Transformation of Virginia, 1740-1790. This seminal publication was critically acclaimed for its ethnographic—"everybody's history"—approach to systematically exploring colonial Virginia. His new book, Landon Carter's Uneasy Kingdom: Revolution and Rebellion on a Virginia Plantation, comprising what Isaac calls "gentry lore,' seems to take the opposite approach. Yet to characterize this work as nonrepresentative misses the point; to do so would be to rob it of the riches it offers to our understanding of the American Revolution as a personal experience. Colonel Landon Carter was one of Virginia's richest and most privileged men from the day he was born in 1710. Like all gentry of his time, Carter owned slaves and land. His estate was at Sabine Hall in Richmond County, near Warsaw. Unlike other men of his status, Carter kept a meticulous diary, starting in 1752 and ending with his death in 1778. It is this collection of writings that forms the basis of Isaac's Uneasy Kingdom.
I had never heard of Landon Carter until I met Rhys Isaac as both my professor and neighbor in Colonial Williamsburg. In fact, I had taken few history classes—none at the College—until I enrolled on a whim in Isaac's 400-level Public History course last fall. Immediately I found Isaac's distinct English-style accent and sprite-like appearance charming and magnetic, but that was only the beginning. Within weeks Isaac was guiding his students through Colonial Williamsburg on excursions to meet with museum vice presidents, interpreters, tradesmen and others. Many times he led us on his bicycle (always wearing the proper safety helmet). Upon arrival at our various destinations, it was always apparent that Isaac's colleagues in Colonial Williamsburg had the utmost respect and admiration for him.
"Thank you for having us here," he'd say.
"Oh no! The pleasure was all ours. Anything we can do for you, Rhys?" was the typical response.
And for good reason. Since its publication, The Transformation of Virginia has been regarded as a must-read training piece for every new interpreter in the historic area. According to Cary Carson, vice president of research for Colonial Williamsburg, "Transformation has worn especially well over 20-some years because the stories it tells about people otherwise seldom documented remain fresh and unforgettable. Being storytellers themselves, interpreters never lose their appreciation for a master historian-raconteur."
Carson's praise for Isaac does not stop there. During a recent event at the DeWitt Gallery, at which Isaac reflected on his new book, Carson remarked of Isaac, "No truer friend or colleague could we ask for."
And coming from outside the discipline of history, I could not have asked for a better teacher. To know Isaac's approach to history is to appreciate and understand the subtleties of perspectives. Born in 1937 near the Cape of Good Hope in what is now the Republic of South Africa, Isaac, much like Carter, assumed a position of prominence and privilege by virtue of his being a white male. Instead of tolerating the apartheid system of segregation and exploitation, Isaac rejected it entirely at age 22 by escaping to Oxford University on a Rhodes Scholarship. In 1963 Isaac found his way to Australia. Eventually he became affiliated with La Trobe University, where he is now professor emeritus. Somewhere along the way, his passion for learning about the American Revolution led him to Virginia and to the beginning of it all in Colonial Williamsburg.
Isaac started reading bits of Carter's diary in 1969. His relationship with the man, and the work, blossomed during the ensuing years until it eventually became a full-blown research project after the publication of his first book. Isaac soon found that Carter's story had a monolithic capacity to convey experiences and stories from the Colonial period. As Virginian colonists moved further down the road to revolution, Carter increasingly was confronted by rebellion in his own kingdom. His daughter eloped, yet his son-in-law still expected to receive her dowry. His son refused to obey and respect him. His slaves deserted him when the looming war offered the specter of freedom. He became preoccupied with thoughts of "villains and rogues," often anxiously fretting about how people might be out to cheat him. Event by event, Isaac masterfully weaves through the disintegration of one man's patriarchy, using Carter's story as a microcosm for the crises all people faced during this epic period in the nation's history.
But Isaac never oversteps his role as literary editor. He largely allows Carter's own delicately worded text and anecdotes to paint the picture for his readers, intervening only to supply social and historical contexts that enhance, rather than replace, Carter's own voice. One reads Landon Carter's Uneasy Kingdom with a new sense for the universality—across time and culture—of the stories people tell themselves in the face of hardship, uncertainty and change. Isaac is aware of Carter's capacity to do this for modern readers, and he even encourages such a realization, albeit gently. In the preface, Isaac writes, "History might seem a self-indulgence in the face of such moral urgency. But I know that it is not. We must know where our world comes from, if we are to plot for it a better future."
The amazing charm of Isaac is that such thoughtfully worded prose flows just as easily from his tongue as it does his pen. During the event at the DeWitt Gallery, a woman asked Isaac how his own subjectivities affected his interpretation of Carter's diary. Isaac thought about this for a second or two, then responded, "History is the story we make out of the stories we find." Initially he seemed startled at everyone's awed reaction, but he promptly recoverd and seemed as pleased with his response as was his questioner.
Although another professor of Isaac's stature might be prone to self-aggrandizement, Isaac is refreshingly humble and unassuming. For example, when he does his rendition of an 18th-century Southern aristocrat imitating a slave—quite humorous when heard through the inflections of a South African-cum-Australian—Isaac seems wholly unaware that his words might sound funny for what they are: a performance. But Isaac feels comfortable with performances; indeed, it is performance that Isaac teaches his students to observe and appreciate within the realm of public history, performance as people presenting history, performance as people interpreting history, performance as people coming together and imagining what history was like. For anyone interested in the roots of America, there is no better place to encounter all three than in Colonial Williamsburg. With Isaac as a teacher, students come to realize that history is not exclusively concerned with what the past says about the present. Sometimes, what's equally telling—if not more exciting—is how the present speaks about the past.
With that thought in mind, I go back to when I first met Landon Carter as Isaac visited in my house that November afternoon. I remember that we shared some apple cider and cookies from the nearby Raleigh Tavern Bake Shop. Isaac was seated in an upholstered chair next to the fireplace as he told me about some of Carter's stories. As he spoke, I found myself honored to be living in the heart of Colonial Williamsburg next to such a learned man. To be quite honest, I found myself a bit giddy that a Pulitzer Prize winner was in my living room. I marveled that at William and Mary such opportunities are possible. Setting these thoughts aside, I focused again on what Isaac was saying about Carter. "Yes," he drawled to a close, "with Landon Carter, the riches are almost endless."
So, too, I've found, are the riches of Rhys Isaac.