Axtell Named Fellow of the American Academy of Arts and Sciences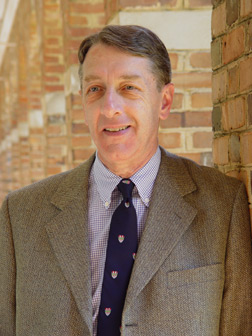 James L. Axtell, William R. Kenan, Jr. Professor of Humanities in the William and Mary department of history, was named a fellow of the American Academy of Arts and Sciences on April 30. Axtell was among 178 new Fellows named for 2004.

"Finding the academy's letter in my mailbox was like being hit by a nice kind of lightning," said Axtell about the honor. "My hair is still standing on end, but I have a euphoric sense that I may be in academic heaven. I couldn't be more surprised or pleased. I knew I had been nominated three years ago. But when I heard nothing for so long I was resigned to being a lost cause."
Axtell earned a bachelor's degree from Yale University, and a Ph.D. from Cambridge University.
Before coming to William and Mary in 1978 Axtell taught at Yale, Sarah Lawrence, and Northwestern. His academic interests focus on the ethno-history of colonial North America, the comparative history of the colonial Americas, the age of exploration, and the history of American higher education. Axtell was recognized with an Outstanding Faculty Award by Virginia's State Council of Higher Education in 1988.
"These new members have made extraordinary contributions to their fields and disciplines through their commitment to the advancement of scholarly and creative work in every field and profession," said Academy President Patricia Meyer Spacks.
The Academy of Arts and Sciences was founded in 1780. Its founding fathers include John Adams, James Bowdoin and John Hancock. The Academy conducts interdisciplinary studies on international security, social policy, education, and the humanities that draw on the range of academic and intellectual disciplines of its members. The current membership of over 4,500 includes more than 150 Nobel laureates and 50 Pulitzer Prize winners.
Axtell has authored numerous books. The Invasion Within: The Contest of Cultures in Colonial North America won the Gilbert Chinard, Erminie Wheeler-Voegelin, and Albert B. Corey prizes in 1985. His other books include The Indians' New South: Cultural Change in the Colonial Southeast (1997), The Pleasures of Academe: A Celebration and Defense of Higher Education (1998) and, most recently, Natives and Newcomers: The Cultural Origins of North America (2001).
Axtell's induction will be recognized by the Academy at a ceremony at its headquarters in Cambridge, Massachusetts in October.