2001 Pulitzer Prize for History Awarded to William and Mary Alumnus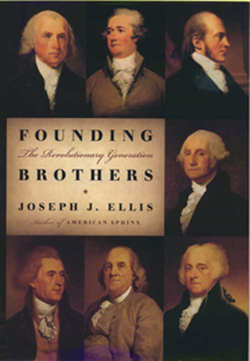 Joseph J. Ellis, a member of William and Mary's Class of 1965, has been awarded the 2001 Pulitzer Prize for History for his book Founding Brothers, a study of the men who led the American Revolution. The award carries a $7,500 monetary prize. Ellis spoke at the college's 1998 commencement, when he was awarded an honorary doctorate of humane letters at that time.
The Ford Foundation Professor of History at Mount Holyoke College, Ellis is a nationally recognized scholar on American history from colonial times through the early decades of the Republic. The author of six books, in 1997 he was awarded the National Book Award in Nonfiction for American Sphinx: The Character of Thomas Jefferson (Knopf).
Pulitzer Prizes are awarded annually by Columbia University, New York City, for public service and achievement in American journalism, letters, and music. The prizes, originally endowed with a gift of $500,000 from the newspaper magnate Joseph Pulitzer, are highly esteemed and have been awarded each May since 1917. The prizes have varied in number and category over the years but currently number 14 prizes in the field of journalism, six prizes in letters, and one prize in music.
Ellis has also published a wide variety of scholarly articles, essays, reviews, and opinion pieces in publications including American Heritage, The Boston Globe, The Washington Post, The New York Times, The Chicago Tribune, The New Republic and Civilization. He has also appeared many times on C-SPAN, Fox News, the Lehrer News Hour, and National Public Radio. Ellis, who received an M.A. and Ph.D. from Yale University, has taught at Yale, West Point, and, since 1972, at Mount Holyoke College.
A former U.S. Army officer, Ellis has lectured at the Army War College and at West Point on the Vietnam War and on the education of Army officers in the post-Cold War era. He was also a consultant and appeared as a participant in the Ken Burns documentary "Thomas Jefferson," which aired on PBS in February of 1997. He also co-authored the article in Nature(November, 1998) accompanying the DNA study of Jefferson's descendants by Sally Hemings.
Ellis has received many honors and fellowships, including a Guggenheim and a National Endowment for the Humanities Senior Research Fellowship.