Board members strengthen graduate education in Arts & Sciences
They are leaders in their fields with busy lives and careers. Yet each of them—and there are more than a dozen in total—has made a passionate commitment to William and Mary's Graduate Studies Advisory Board (GSAB) in Arts & Sciences.
Why?
To Build a Bridge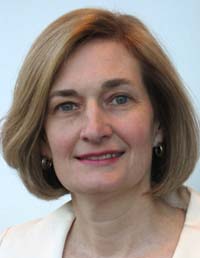 "It is really important to inspire undergrads to see the depth of knowledge available," says GSAB President Dr. Cynthia Morton, Professor of Obstetrics, Gynecology and Reproductive Biology and Professor of Pathology at Harvard Medical School, and recent Past Director of the Biomedical Research Institute and Director of Cytogenetics at Brigham and Women's Hospital in Boston.
"An undergraduate liberal arts education is like being in a candy store, you get to sample everything. Even when you focus in on your major, it is still quite a broad experience," says Morton. "Graduate programs are a vital part of the William and Mary academic family, and graduate students provide an important bridge between the undergraduate students and faculty."
Morton's enthusiasm for William and Mary was ignited during a fourth-grade family vacation to the Colonial capital. Years later she fulfilled her dream and graduated with a B.S. in biology in 1977. The College continues to hold a soft spot in her heart.
Morton is particularly enthusiastic about the GSAB Awards for Excellence in Undergraduate Mentoring, initiated by the Board in 2009 at the suggestion of member Robert Saunders. She hopes recognizing graduate students for giving their time as mentors will encourage them to continue to develop their skills in this area.
"I think mentoring is often underappreciated for its contribution to the community," says Morton. "You might discover an important new gene and be on the front page  of The New York Times. If you are the best mentor in the world, you are not likely to make the paper, yet your impact at the end of the day may be much larger. I am honored to be a part of enhancing the experience here."
To Attract the Best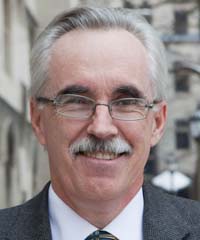 For Larry McEnerney getting involved with the GSAB took a somewhat serendipitous route. In his 25 years since graduating from the College with a B.A. in English and History, McEnerney built a successful academic career. As Director of Writing Programs at the University of Chicago, McEnerney teaches and consults about writing worldwide.
In 2003, McEnerney returned to campus for the first time since 1976 to tour the College with his youngest daughter, who enrolled at William and Mary the following year.
"My daughter's enrollment offered the motivation to get reconnected," says McEnerney. "I joined the board because I was excited about the opportunity to support graduate studies."
McEnerney brought his interest in diversity to the GSAB. In 2008, the Board implemented the idea to designate funding for Diversity Fellowships as part of the graduate program's Recruitment Fellowships.
"I've been lucky to work with many remarkable people, but some of the most extraordinary have been people who haven't traditionally been associated with their fields," says McEnerney. "Their creativity is astonishing—they ask different questions, they mount new challenges, and they see not just new possibilities but new categories of possibilities.  It's invigorating to feel that we can play a role in bringing still more of this intellectual energy to William & Mary."
To Advance Progress and Careers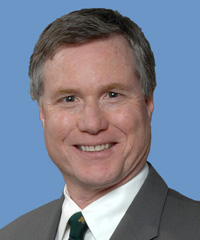 For GSAB member Brian Morra, the annual Graduate Research Symposium is a highlight of his board experience.
As the Sector Vice President for Business Development & Strategic Planning in Northrop Grumman Corporation's Electronic Systems Sector, Morra is responsible for the sector's global marketing operations, long-range planning, and all investment planning and oversight. And he is always looking for promising new talent.
"I have been very impressed by the wealth of interesting research projects at the symposium each year," says Morra, who was a session chair at the March 2011 symposium. "It's a great opportunity for corporations to assess student projects and scout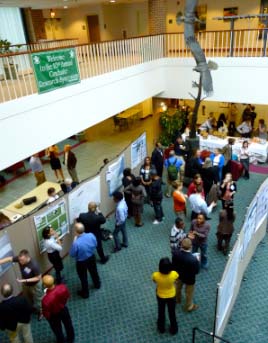 to fill employment needs." Northrop Grumman Corporation has been a symposium sponsor and has funded the Northrop Grumman Award for Excellence in the Natural and Computational Sciences at the symposium.
A William and Mary undergraduate in History, Morra '78 joined the board about two years ago and says his involvement has offered great insight into the strategic opportunities and challenges that William and Mary faces.
"There is an opportunity to build a stronger link between the College and the corporate world for funding to sponsor research and recruitment," says Morra. "Bringing corporations and students together really is beneficial to everyone, and it affords students an opportunity to understand how industry might fit in with their career plans."