Amy Howard's Dissertation Honored for Research Excellence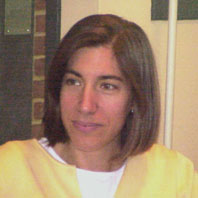 Amy Howard (Ph.D., '05), now associate director of the Bonner Center for Civic Engagement at the University of Richmond, was honored by the Graduate Studies Advisory Board for her dissertation in American Studies, titled "'More than Shelter': Community, Identity, and Spatial Politics in San Francisco Public Housing, 1938-2000."
The Arts & Sciences Graduate Studies Advisory Board has created the Distinguished Dissertation Awards and Distinguished Master's Thesis Awards to recognize exemplary scholarship that contributes significantly to the discipline.
Professor Howard's research centered on public housing projects in San Francisco. "I looked at how residents in these projects came together across racial and ethnic lines to form communities and turn their projects into homes," she said. "Faced with project mismanagement, increases in crime, occasional infighting, and the scorn of surrounding communities, these people engaged in a range of actions to enact social change." In one instance, about 200 tenants participated in a rent strike to force improvements.
In April 2006 Professor Howard spoke at a meeting of the Advisory Board, describing how her dissertation research helped to shape her career path. "I had an amazing experience at William and Mary. All of the assistantships I had there really made a difference, both in preparing me for the great job I have now and in distinguishing me from hundreds of other applicants."
Graduate Fellowships Established to Recruit Top Students
To ensure that W&M remains competitive with other elite graduate programs, many of which offer attractive recruitment incentives, the Graduate Studies Advisory Board has established recruitment fellowships. Students of exceptional caliber who represent extraordinary recruitment opportunities are eligible to receive these fellowships.
Arts & Sciences is committed to recruiting outstanding graduate students, who add to the scholarship and vitality of academic life within departments. In-depth graduate study alongside professors advances scholarship within the discipline, and yields new insights that benefit our society at large.