Pressler Gives Back to Vets
Sam Pressler, an outstanding Government graduate ('15), saw a problem and did something about it.  As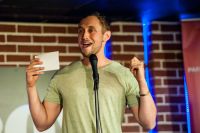 this recent Politico story describes, Sam recognized the steep challenges that veterans face as they attempt to transition from the battlefield back to civilian life.  His solution was to envision and then create a program, known as the Armed Services Arts Partnership (ASAP), to help use the creative and performing arts as a vehicle to aid in these transitions.  
Sam's initial work on the project at William & Mary was supported by a McGlennon Scholarship.  That award was established for Government majors by an anonymous alumnus, which provides four $10,000 scholarships annually and expects students to enrich their undergraduate Government degree by undertaking an honors thesis, independent study or some other project.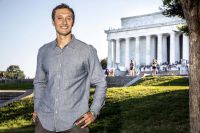 Sam used the proceeds of his scholarship to develop what eventually became ASAP.  His project has grown into a nationally recognized non-profit that regularly offers classes, venues and other support for vets to display their talents and express their thoughts through comedy, fiction, poetry and music.  For more information, including a schedule of upcoming performances, see the organization's website.
The Department of Government congratulates Sam and his team for their outstanding work!