Government Diploma Ceremony 2018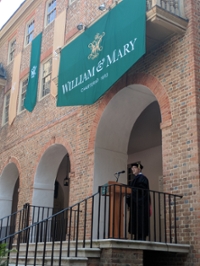 On Sunday, May 13th at 11 o'clock, the overcast sky gave way to a bright sun radiating above the weathervane of the Wren building. Chair, Professor Paul Manna lets out a boisterous, "Good morning everyone!" to welcome family, friends, and graduates to the Government Department Diploma ceremony.
This Mother's Day was very special as 142 graduates processed in to receive their diploma at the top step of Wren. Professor Paul Manna kindly stated, "Your sons and daughters here today have been working hard for the last four years to make you a Mother's Day present that you will never forget—a college diploma."
A new generation of exceptional graduates brought about a new era as the torch of announcing names was passed to Professor Marcus Holmes this year from his predecessor, Professor Clayton Clemens. Special thanks and recognition was given to fellow faculty members and administration. In addition, Professor Manna honored several individual graduates for their outstanding achievement.
Koenig-Nimmo Foreign Service Award Liam Kierans and David Park were this year's recipients of the award, which goes to students who possess an aptitude for a career in United States Foreign Service. Recipients are selected on the basis of commitment to Foreign Service, academic excellence, leadership qualities, and interest in promoting international understanding.
McGlennon Scholarship This scholarship is named in honor of our current colleague, Professor John McGlennon and was awarded to Jacob Nelson and Hannah Gourdie. It was created to support Government majors with outstanding track records of success and plans to use awarded funds to further enhance their learning experience.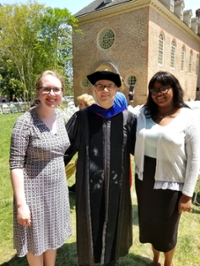 Graduate, Hannah Gourdie was this year's recipient of the Alumni Association Government Prize and the W. Warner Moss Prize. The William & Mary Alumni Association Government Prize is awarded upon recommendation from the Department, to recognize an outstanding Government major. The Warner Moss Prize goes to the student who completes the most outstanding honors thesis in Government. The award is named after W. Warner Moss, who was a member of the William & Mary Government faculty for nearly four decades and was known for the high standards and deep interest in educating students.