Best of the Best on Diplomacy
On March 29th,
Professor Marcus Holmes'
new book
Face to Face Diplomacy: Social Neuroscience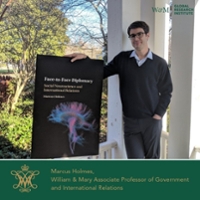 and International Relations
was awarded "Best Book on Diplomacy" by the Diplomatic Studies Section of the International Studies Association (ISA). Founded in 1959, ISA is one of the oldest interdisciplinary associations around the globe. Their Diplomatic Studies Section honors an author every two years for the work that best progresses diplomatic theory, particularly those which connect diplomacy with broader issues.
Face to Face Diplomacy focuses on the importance of these interactions in international politics. Professor Holmes argues these interactions lend greater insight to underlying intentions or sincerity between leaders and how these interactions shape negotiation outcomes. This theory challenges previous notions of the role intentions play in international politics, a concept that is largely overlooked. The novelty of his ideas makes the award well-deserved and will inform future research for years to come. Congratulations Professor Holmes!