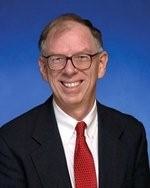 Dear Government Alumni,
Greetings!  We are well into the 2011-2012 academic year.  After a bumpy start to the semester, which included Hurricane Irene and an earthquake, we are happy to report that we are up and running as usual.  Morton Hall seems to have survived the elements, though we have had an unusual obstacle course of holes in the ground floor as facilities management continues the never-ending fight against flooding in our friendly confines.  We hope for some resolution to that problem, though as Justice Stevens reminded us in McConnell v. FEC (540 US 93 (2003)), water and campaign funds "will always find an outlet." 
First things first, we are very much looking forward to seeing you at Homecoming!  This year we will again be hosting a reception along with Economics Department and the Public Policy and International Relations programs. This year, the reception will be a brunch held between 10 a.m. and 12 noon on Saturday, October 22 in Blow Hall 201.  No RSVP required, and we welcome families. We have thoroughly enjoyed seeing you at this event in the past couple years and hope to see many of you there again this year. 
At this year's Homecoming reception we will be delighted to announce the winner of the first Todd W. Weaver Study Abroad Scholarship.  The scholarship is named to honor the memory of Todd Weaver, Class of 2008, who died in battle serving his country in Afghanistan on September 9, 2010.  It will provide $2500 to support one Government or International Relations major as he or she studies abroad during the spring or summer semester of 2012.  It is a testament to the power of Todd's story that his family and friends were able to fully endow this scholarship in less than a year. Please read more about the scholarship here.
We would also like to take a moment to recognize Clay Clemens for his many years of service as Associate Chair of the Department.  As you know, Clay has been tireless in his efforts in support of the College, and his support of the Government Department has been no less impressive.  We extend a huge thank you to Clay for his commitment to the Department and his remarkable service.  Not surprisingly, the work Clay did could not easily be carried on by any one faculty member.  As a result, we are now happy to have two of our faculty take on the roles of Associate Chair—Chris Howard and Chris Nemacheck.  Of course, Clay will continue as a full-time member of the department.
Finally, we have several new colleagues to introduce.  We are delighted to have Stephen Hanson, the new Vice Provost for International Affairs and Director of the Reves Center for International Studies, as a member of our Department, as well as Cullen Hendrix and Philip Roessler  as Assistant Professors. We are very much looking forward to having Mark Buntaine join the Department in January. We are also very pleased to introduce Mary Lueker, our new Budget Manager.  Mary joined us in August and already we cannot remember what we did without her!
We hope to see as many of you at homecoming as possible and look forward to hearing from you.  We will shortly be updating our Alumni Notes, so please use our online form to give us your latest news.  You can also get in touch by sending email to government@wm.edu.
Enjoy the fall!
John McGlennon
Chair, Government Department
P.S. We don't have current e-mail addresses for all of our alumni. If you're in touch with other Government alums, we'd appreciate it if you would forward this e-mail message to them. Contact information can be updated using this form.  And of course, if you would like to show your support for the department with a gift, please visit this page.