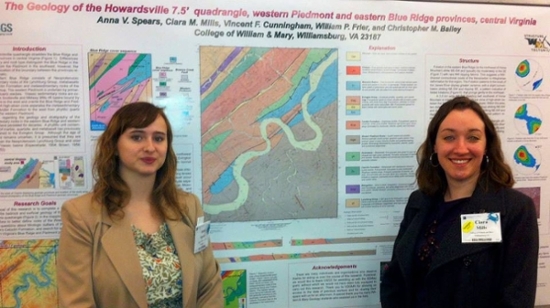 One of the strengths of the Geology program at William & Mary is the requirement that students complete an independent research project during their senior year.  While all majors are required to complete a research project and submit a thesis, students who wish and meet the requirements may complete Honors theses upon the successful completion of a defense.  Check out recent student research featured in W&M News.

 Completed Honors projects are available through the Charles Center and theses submitted since 2014 are also available for download through Swem Library at W&M Publish.

The following students were engaged in senior research as part of the requirements for graduation.  For theses prior to 2012, please contact the department.
List of geology majors and their senior thesis titles

---

Name

 Title

---

Class of 2021

Christopher Bennett

Mineralogy and Geochemistry of a Metapyroxenite,

Chopawamsic Terrane, Piedmont Province, Virginia

Mackenzie Chriscoe

Creating a Paleontological Inventory for Colonial

National Historical Park in Virginia, U.S.

Katharine Dean-McKinney

Monitoring Performance of Shallow, Subtidal

Restoration Oyster Reefs Using Advanced

Technologies: A Case Study on Felgates Creek

Reef (York River, VA)

Leah Earnest

Nuclear Testing and its Lasting Effects on Ecosystems

Rosemary Guardado

The Effects of the End-Cretaceous Mass Extinction on

Phylogenetic Relationships in Crassatellidae (Mollusca,

Bivalvia) from the U.S. Gulf Coastal Plain

Emily Hall

Hidden Levees: Efficacy of Small-Scale Barriers to Sea

Level Driven Marsh Migration on Rural Coasts

Junhao Hu

Kinematics and Geochemistry of Fault Zones at the

Dominion Quarry, Eastern Blue Ridge, Virginia

Sarah Grace Lott

Internal Geometry of a Headland Bypassing System:

São Francisco do Sul Island, Brazil

Breanna Maldonado

Numerical Modeling of Compounding Flooding

During Hurricanes in the Charleston Harbor and

Savannah River Watersheds

Greta Mattheis

Urbanization and Zinc Pollution in the Lake Matoaka

Watershed

Gabriel Mojica

Structural Geometry of Mafic/Ultramafic Bodies Near

Schuyler in the Eastern Blue Ridge, Central Virginia

Lindsay Moller

A Holocene Record of Tephra Deposition from lake

Kirkjuvatn, Faroe Islands

Zoey Mondshine

Validation of the Derivative Radon-Risk Map of

Williamsburg, VA

Colleen Norton

Size and Age Structure of Modern Crassostrea

virginica in Lower Chesapeake Bay

Christopher Pardo

Urban Runoff and Atmospheric Deposition as Zinc

Contributors in Two Distinct Watersheds

Olivia Pearson

Strain and Kinematic Analysis of Quartzite from the

Evington Group, Eastern Blue Ridge, VA

Andrew Peck

Mapping and Analyzing Millpond Watersheds in

Williamsburg, VA using Geographic Information

Systems and Remote Sensing

Sarah Snipes

Isolation Basin Records Constrain Late Holocene

Sea-level Trends in Northern Norway

Christopher Snyder

Quantifying Morphological Variation in the Ornament

and Shape of Dermal Scutes in Sturgeon (Acipenseridae)

Melanie Strik

The Importance of the Sedimentology of Dunes in the

Protection from Sea Level Rise

Timothy Terlizzi

Three Centuries of Vegetation Change in the William

& Mary College Woods reconstructed using Phytoliths

Kelly Thigpen

Tectonic Inversion in the Sherando 7.5' Quadrangle,

Blue Ridge Province, Virginia

Jacob Tidwell

Constraints on the Origin of Ferruginous and

Manganiferous Quartzites in the Mineral Area,

Chopawamsic Terrane, Virginia

Nicholas Vaka

The Origin and Significance of Metamorphosed

Ultramafic Rocks in the Chopawamsic Terrane,

Buckner Quadrangle, Virginia

Caitlin Walker

Holocene Trends in Biogenic Silica Revealed by

FTIR Spectroscopy Applied to a Lake Sediment

Record from Northern Norway

---

Class of 2020

Billy Arthur

Urbanization and Sedimentation in Three Discrete

Catchments

Samuel Belding

Analysis of Brittle Deformation Features in the

Channel of The James River, Western Piedmont

Virginia:Traditional and Remote Sensing Techniques

Koltyn Caricofe

Strain analysis of an Evington Group quartzite,

eastern Blue Ridge, Virginia

Andrew Churcher

Petrogenesis of a Possible Tonalite Pluton in the

Chopawamsic Terrane, Piedmont Province, Virginia

Megan Gillen

Vulnerability and Resilience of Tidal Marshes along

an Estuarine Salinity Gradient

Emily Hinshaw

Structure, Petrology, and Geochronology of

Mesozoic Diabase Dikes in the Central Virginia

Piedmont

Alton Hipps

High Localized Uranium and Radium in the

Mid-Atlantic Coastal Plain:Implications for Radon

Hazards

Savannah Jones

Developing COLL of the Wild: A Natural History

of the Coastal Plain of Virginia

Evan Laughlin

The Depositional and Deformational History of

Meta-Carbonate Rocks at the Blue Ridge-Piedmont

Transition, Central Virginia

Sam Laveson

Rift Propagation in the Amery Ice Shelf, East Antarctica

Isaac Mantelli

Limiting Factors of Pyrite Formation in the Belt

Supergroup, Montana

Isabella Muller

Further Investigations of the Union Mill Gneiss in

the Raleigh Terrane, Piedmont Province, Virginia

Eric Nubbe

A Tectonic Origin for Listwaenite in the Semail

Ophiolite at Wadi Mansah, Northern Oman

Chloe Obara

Spit Elongation as a Control on Downdrift Barrier-

Island Stability: Insights from Assateague Island, Virginia

Eric Osinkski

Revising the Neoproterozoic Stratigraphy in Central

Virginia: Insights from the Tye River

Brady Pitts

Determining the Effects of the Mid-Pliocene Warm

Period on Glycymeris subovata Morphology

Claire Rae

Strain Analysis of Diamictites and Sandstones in

the Neoproterozoic Ghubrah & Fiq Formations,

Northern Oman

Alexa Regnier

Peak Warming during Marine Isotope Stage 11

in the Arctic Ocean Based on Planktic Foraminifera

Mahinaokalani Robbins

Sea-Level Rise and Updrift Sediment Trapping Drive

Net Sand Loss along the Virginia Barrier Islands

Amanda Sasina

Unearthing the Tectonic Significance of

Metamorphosed Igneous Rock in the Central

Virginia Piedmont

Colleen Scott

Provenance of Hurricane-Induced Salt Marsh

Sedimentation on the Southeast Coast, USA

Paul Volante

Advantages of Americium-241 as a Dating

Tool in Sedimentary Systems

Ryan Walter

Unmasking a Terrane Triple Point in

Central Virginia

Gabe Westergren

A 12,000-year Biogenic Silica Lake Record

From Northern Norway

Ian Wilenzik

Inferring Diet of Clidastes liodontus through

Comparative Skull and Pterygoid Tooth

Morphology of Toxicoferan Squamates

Peyton Winter

The Effects of Climate Change and Megafaunal

Extinction on the Body Size and Diet of the

Hispid Pocket Mouse (Chaetodipus hispidus)

over the Late Quaternary 

---

Class of 2019

Caroline Abbott

The Dimetrodon Dilemma: Reassessing Posture in

Sphenacodontians and Related Non-Mammalian Synapsids

Savannah Bailey

Evidence of Limited Erosion in the White Mountains of

New Hampshire

John Bednarek

Petrogenesis of the Roanoke Rapids Pluton, Eastern

Piedmont Province, North Carolina

Bianca Boggs

Contributions of Antecedent Topography to Long-Term

Barrier-Island Dynamics: Examples from the New Jersey

and Maryland Coasts

Kayla Cahoon

Spheroidal Carbonaceous Particles in a Virginia Mill Pond

Provide a Record of Local and Regional Coal Combustion

Briana Childs

Paleoenvironmental Analysis of the Late Quaternary

Cypress Swamp Formation, Delaware

George Denny

Plate Reconstruction of Astypalaea Linea, Europa:

Testing for Transtensional General Shear

Hope Duke

U/Pb Zircon Evidence for a Cryptic Suture in the

Goochland Terrane, Virginia

Joanne Ensley

How Effective are Retention Ponds at Mitigating the

Effects of Urban Runoff?

Sean Franco

Finding Evidence of Retention Ponds in Sediment Archives

Maddie Gaetano

Nutrient Availability and Temperature as Catalysts of Growth:

a Study of Crassostrea gigantissima

Allison Gonzalez

Mineralogy and Geochemistry of the Bourdon Creek Pluton,

Roanoke Rapids Terrane, Piedmont Province, Virginia

Hannah Grudi

Response of Stenothermal and Eurythermal Fossil Mollusks

to Temperature Shifts Across the Mid Pliocene Warm Period

Klaire Gubler

Evaluating the Impact of Increased Impervious Surface Cover

on Hydraulic Conductivity of Soil in a Paired Watershed Study

Paige Haley

Emerging Contaminants from Urban Runoff in Lake Matoaka

Charles Hollmuller

Kinematics of Deformation at Whittle's Mill

Mohini Jodhpurkar

Relationship Between Radar-Bright Areas and Geologic

Landforms in Venusian Tesserae

Annette Kang

Mineralogy and Geochemistry of the North View Pluton,

Piedmont Province, Virginia

Kendall King

Saltmarsh Event Sedimentation: A Comparative Study of

Hurricane Irma Deposits across the Southeast U.S.A

Ben Landolt

Sinkhole Development in Maple Flats, Virginia, and Its

Potential Implications for late-Pleistocene Climate

Livia Marrs

Mercury Accumulation in the Deep Basin Sediments

of Lake Matoaka from 1780-2016

Leah Marshall

Late Holocene Sea-Level Reconstruction for the Lofoten Islands,

Norway Using Sediment Records from Isolation Basins

Emily Mushlitz

An 8000-year Record of Climate and Environmental Change

from Lake Sandsvatn, Faroe Islands

David Nicks

Response of Spartina patens and Distichlis spicata productivity

to experimental sea-level rise

Madelyn Phillips

Integration of Socioscientific Activities into an Introductory

Geology Lab: Impacts on Student Engagement

Caroline Polly

Petrogenesis of an Early (?), More Mafic Phase of the

Petersburg Batholith near Richmond, Virginia

Jun Shi

A Comparison of Phosphorus Level in Created Living

Shoreline and Natural Salt Marsh Soils

Kinsey Wilk

Detrital Zircon Double Dating in the Scottsville Basin

---

Class of 2018

Meagan Cantwell
Reconstructing Late Holocene Storm Records in the
Chesapeake Bay (USA)
Sophia (Sophie) Delzell 
The Impact of The Younger Dryas on Northern Norway
Kate DeMarco 
Beach and foredune ridges as recorders of coastal
shoreline evolution: Insights from Chincoteague-Assateague
-Wallops islands, northern Virginia
Moussa Dia
Reconstructing Late Holocene sea level change and
impacts on early settlements in the Lofoten Islands, Norway
Gabriella (Gabi) Edghill
Classification of Surficial Seafloor Sediments in the Atlantic
Ocean: A Reproducibility Study
Lauren Herbine
Implications of Long-term Resilience of Delmarva Peninsula
Marshes for Barrier-Island Stability
Joshua Himmelstein
Mechanisms of Pond Expansion on the Saltmarshes of the
Blackwater National Wildlife Refuge, Maryland
Katherine (Katie) Lang

Kinematics of Brittle and Ductile Deformation in the Catoctin 


Formation near Rockfish Gap, Virginia

Kelsey Mathern
Group II elements in Crassostrea virginica across a salinity
gradient in the James River, VA
Ashley Mitchell
Gender and the Geosciences: Graduation Rates of Women
from Twenty Schools including the Keck Geology Consortium
Jason Nykorczuk
The Effects of Martian Atmospheric Dust on Human Exploration
Oluwakorede (Korede)
Olateru-Olagbegi
Tracing Erosion on Asymmetric Forested Hillslopes in
Southeastern Virginia using Cs-137
Genevieve (Eve) Pugsley
Lacustrine Records of Holocene Climate History and
Human-Driven Landscape Evolution in the Lofoten Islands, Norway
Daniel Ray
Origin and Significance of a Large Mafic Gneiss Xenolith in
the Petersburg Granite, Piedmont Province, Virginia
Madison (Maddie) Renshaw
Effects of Latitude on Pollutants Pb Burens in Lake Sediments
Kendall Rosenberg
A Sedimentological Record of Gravity Flows in Prince
William Sound, Alaska: Implications for Paleoseismicity
Jacob (Jake) Seefeldt
Flexural response of the Suffolk Scarp on the mid-Atlantic
Coastal Plain
Forrest Sprouse
Comparing size and growth rate of Pleistocene and
modern Crassostrea virginica in Delaware Bay
Moira Tayler
Spatial and Temporal Differences of Oyster Aquaculture
Bed Sediment in the Chesapeake Bay
Catherine (Katie) Valery
Eclogitization and Shear Zone Kinematics in the
Lofoten Islands, northern Norway
Thomas Vinci
Origin of the Nottoway Falls Knickpoint in Nottoway, Virginia
James (Jimmy) Van Hook
Late Quaternary Climate and Landscape History of the
Grafton Ponds Natural Area Preserve, Yorktown, Virginia
Aubrey Vaughan
The Structure Timing and Kinematics of Deformation in
the Buckmarlson Transition Zone Virginia Piedmont
Lauren Visokay
Kinematic Analysis of the Metamorphic Sole in the
Samail Ophiolite, Hawasina Window, Oman
Richard Watson
Emplacement and Exhumation Mechanisms of the
Petersburg Batholith
E. Worthington
Evaluation of Offshore Heavy Mineral Resources of
Delaware and Virginia
Jiayi Zhang

Effect of Impervious Cover on Urban Stream Salinity 

of Williamsburg Area Streams

---

Class of 2017

Sherifa Atwa

Diversity in the Geosciences: An Investigation of Four-Year

Institution Completion Rates by Gender and Race

Sarah Baker

Historical erosion and accretion patterns along Plum Island

Point and Salisbury Beach, Massachusetts

Connor Barto

Pleistocene Crassostrea virginica population density and

paleoclimate in Horry County, South Carolina

McNeill Bauer

Factors regulating enhanced atmospheric deposition across

high elevation thresholds

Genevieve Brei

Provenance of Ferruginous Sandstone at Menokin on the

Northern Neck, VA

Yingchi (Alicia) Cheng

Argillic horizon development and its controls on radium

redistributions in Coastal Plain, Virginia

Jennifer Connell

Investigating salt marsh response to natural and anthropogenic

changes in the Great Marsh, Massachusetts

Mary Donohue

Geology of the James River State Park at the Blue Ridge/Piedmont

boundary, central Virginia

Sean Driggers

Structural and stratigraphic analysis of the basement-cover

contact in the eastern Blue Ridge, Virginia

Erin Girven

Evaluating possible high P and T amphibolites in the

Goochland Terrane, VA

Kira Holmes

The influence of impervious surface cover on groundwater

residence time as measured with 22 Na

Jacqueline Huettenmoser

10Be erosion rates and rock properties at drainage margins:

implications for bedrock weathering in the Blue Ridge, Virginia

Cecilia Hurtado

Structural history of the Semail Ophiolite, Northern Jebel

Nakhl Culmination, Oman

Maggie Irwin

Marine and estuarine molluscan assemblage and sub-aquatic

vegetation change in Florida Bay throughout the past millennium

Emily Meehan
Investigating the Timing of Human Settlement on the Faroe Islands
Ashley Meredith

The use of microbial induced calcite precipitation to reduce

trace element concentrations in fly ash leachate

Kristen Merritt

Size and Growth Rates of Pleistocene-aged Oysters near

Mink Island (Horry County, South Carolina)

Meredith Meyer

A sedimentary record of environmental change since 1720

from Lake Matoaka, Williamsburg, VA

David (Mac) Phillips

Tree Throw in the College Woods of William and Mary:

Sediment Transport, Rates, Event Frequency, and

Controlling Variables

Jessica Raff

Thresholds of barrier island change: a case study of

Parramore Island, Virginia Eastern Shore

Camilla Renner

A structural analysis of metavolcanic clasts from the

Puddledock quarry in the Eastern Piedmont Province, VA

Zachary Sauter

Geomagnetic analysis of the geometry of CAMP-related

dikes in James River State Park, west central Piedmont, Virginia

Kassie Smith

Reconstructing environmental history: Is there a lag

between EPA regulations of leaded gasoline and lead

concentrations in Lake Matoaka?

Patrick Sommer

The effect of increased impervious cover on ground water

residence time in Williamsburg, VA

Carmi Thompson

Survey of molluscan fauna from the mid-Atlantic United

States continental shelf

Hope Trisler

Hillslope asymmetry in relation to microclimate in the

College Woods in Williamsburg, VA

Joshua Zimmt

Exploring the Calvert Cliffs: Interpreting the history of

condensed sequences through the application of strontium

isotope stratigraphy and paleoecology

---

Class of 2016

Carrie Adams

Alluvial island formation in the James River, Piedmont

province, Virginia

Michael Bekken

Assessing models of landscape evolution using stream

profile analysis, Shenandoah National Park

Kallie Brown
Does shell chemistry differ among oysters from different rivers?
Nathaniel Chien

Basin-average erosion rates and watershed hypsometry in

a transient landscape

Tiff Choi

Knickpoint migration and erosion rates:  determining transience

in the central Blue Ridge, Virginia

John Christoph

Spatial and temporal relationships among small shield volcanoes

in Ceraunius Fossae, Mars

Vincent Cunningham

A kinematic history of brittle deformation at the Blue Ridge-

Piedmont boundary, Central Virginia

John Dearborn

Mineralogy, geochemistry, and timing of Neoproterozoic

mafic magmatism in the Roanoke Rapids Terrane, Piedmont

province, Virginia

Daniel Dores

First measurements of cosmogenic 24Na in rain and runoff

samples in Williamsburg, Virginia

Sarah Flaherty

Impact of weathering on bedrock channel geometry and

channel response to base level change

Ryan Flesch

Save your apatite!  A quantitative tool for analyzing magmatic

volatiles

Claire Goydan

Development of cosmogenic 22Na as a tool to measure

young water age in multiple watersheds

Alexander Greene

Stream capture: an analysis of the Chickahominy and the

South Anna Rivers in central Virginia

Lindsey Guthrie

Near & far: understanding  long-distance trade and interaction

within the Society Islands through the application of energy

dispersive x-ray fluorescence

Annabel Hess

Coring the Crim Dell: a reconstruction of sedimentary history

in Williamsburg, Virginia

Jack Hollingsworth

Mineralogical and geochemical constraints on the origins of

kyanite quartzite in the Kings Mountain Terrane, North Carolina

and South Carolina

Nathan Keithline

Paleomagnetic analysis of the Scottsville Mesozoic rift basin, VA:

implications for regional geologic history

Jennie Latane

Kinematic history of the North Anna gneiss dome in the Goochland

Terrane, eastern Piedmont, Virginia

Karin Lehnigk
The formation of fluvial valleys on Alba Mons, Mars
Brody Marino

Seasonal and spatial variability in the sedimentology of the

Merrimack, Massachusetts

Allison McCluskey

Paleoecology of northeast Florida Bay, Everglades National Park,

Florida: reconstruction of salinity and hydrology for the past ~2000 years

Cait McCormick

Analysis of potential felsic volcanics in the Mechum River Formation,

Blue Ridge, Virginia: implications for the Snowball Earth

Ben Olinger

Bamboozled: phytolith production, introduced bamboo, and its

relationship with soil pH

Reid Perkins
A regional analysis of strike-slip fault morphologies on Europa
Tess Reardon
A comparison of modern to ancient sand dunes, Virginia Coastal Plain
Nathan Ribyat

Pseudotachylite in the Fork Church Fault Zone, eastern Piedmont,

Virginia: a record of Mesozoic seismic activity

Justin Shawler

Multi-proxy records of anthropogenic impacts on fluvial sediment

discharge at Joppa Flats, Massachusetts

Sarah Springmann
Changes in tornados along the eastern United States
Kaylin Stigall

Measuring the impact of land use on sedimentation rates along

the industrialized coastline of Jeddah, Saudi Arabia

Blair Stuhlmuller
A self-efficacy intervention in Introductory Geology Labs
Paige Stuhlmuller
Motivation, achievement and careers in Introductory Geology Labs
Lauren Thronson
Cenozoic faulting in the eastern Piedmont, Virginia
Kat Turk

Eigenshape analysis as a tool for family-level identification of

nepomorphans from the Solite Lagerstatte (Triassic, Virginia)

Marissa von Nessi

A kinematic and petrographic analysis of deformed rocks at the

base of the Semail Ophiolite near Buwah, Oman

Ben Weinmann

Deformation and magmatism in the Ivy Creek Natural Area,

eastern Blue Ridge, Virginia

Hannah Whitworth

Late Holocene benthic micropaleontology and reconstruction of

past sea-level rise on the Potomac River, Virginia, USA

---

Class of 2015

Edward Abrahams

Post-fire hillslope aspect controls on erosional processes traced by

fallout radionuclides in Fourmile Canyon, Colorado

Alana Burton

Testing a steady state model of 22Na transport in small watersheds

for the purpose of dating young freshwaters

Heather Cameron
Analog modeling of structural deformation
Brady Coleman

Nitrate and phosphate removal in a biochar-amended denitrifying

bioreactor

Charles Deaton

Barrier island migration and its role in extensive marsh loss on

Virginia's Eastern Shore

Megan Flansburg

Priming for supereruption:  the hot pre-Peach Spring Tuff lavas

and the Peach Spring Tuff magmatic enclaves, Black Mountains, Arizona

Haley Gannon

Vicious cycles:  an analysis of cyclical erosion and a migrating

erosional hotspot on Plum Island, MA

Mary Gillespie

Characterization of seafloor sediment to inform electromagnetic

induction imaging

Michelle Hoon-Starr

Knickpoints and disequilibrium in an ancient orogen: a study of

central Appalachian channel profiles around Crabtree Falls, Virginia

Anna Jay
Biological aging of oyster shells from the York River (Virginia)
Mike Larson

Mineralogy and geochemistry of clasts in the Potomac Formation,

Coastal Plain, Virginia

Ciara Mills

A petrologic and structural analysis of metavolcanic rocks in the

western Piedmont and eastern Blue Ridge provinces, Central Virginia

Jannette Morris

Evaluating landscape disequilibrium of the Blue Ridge in a passive

margin near Peaks of Otter, Virginia

Owen Sitler

Analysis of longitudinal profiles & knickpoints to determine the

cause of high Appalachian relief

Matthew Sniff

Quantifying and modeling mylonitization in the Hylas Fault Zone

of Virginia

Anna Spears

A petrographic and structural analysis of metasedimentary rocks on

the boundary of the Piedmont and Blue Ridge provinces, Central VA

Elizabeth Stoeckle

An investigation of landscape disequilibrium using channel profile

analysis in the Blue Ridge of Shenandoah National Park, Virginia

Frank Tamakloe

Clay mineral characterization: an exploration into the swelling

tendencies of sodium montmorillonite as a function of salinity

Kelsey Watson

Provencance of ballast stones used in early 17th century

foundations at Jamestown, Virginia

Quan Yuan

Mineralogy and geochemistry of the Skippers Pluton, Roanoke

Rapids Terrane, Virginia

---

Class of 2014

Samuel Adler

Mineralogy and geochemistry of gneisses in the vicinity of the

Lucky Lake Gem Mine, Raleigh Terrane, Virginia

Emily Barnett

Tracing sources of groundwater in the shallow aquifer at Jamestown

and implication for heavy metal mobility

Hanna Bartram

The kinematics, geometry, and history of the Thousand Lake

Fault System, Central Utah

William Brightly
Olfactory ratio a potential proxy for behavior in Theropoda
Patric Callahan

Characterization and origin of carbonate nodules at the Fossil Beach

outcrop of the Eastover Formation, York River State Park, Virginia

Parker Campbell
Structural analysis of the Bowen's Creek Fault, Central Virginia Piedmont
Elizabeth Carter

Mineralogy and geochemistry of possible mantle xenoliths in the

Diana Mills Pluton, central Piedmont, VA

Eric Dale

Reconstructing Pleistocene seasonality via Crassostrea virginica and

Mercenaria mercenaria sclerochronolgy, Holland Point, Virginia

Ariel Deutsch

Investigating water ice in persistently shadowed craters in

Mercury's North Polar Region

Zachariah Fleming
Geology of the Rabbit Valley Salient:  Wayne County, Utah
Patrick Frier

Structural geometry and kinematics of the Chatham Fault

Zone, Virginia

David Godschalk

Three-dimensional strain analysis of the Antietam Formation

in the western Blue Ridge, Virginia

Phillip Goodling

Tidal river aquifer salinity communication and its implications

for drinking water quality in Jamestown, Virginia

Elysia Howe
Utilizing the Paleobiology Database for undergraduate education
Joachim Katchinoff

Exfoliation and characterization of montmorillonite clay via atomic

force microscopy

Connor Kee

Knickpoint form and migration due to base level lowering at

Great Falls, VA

Jeffrey Knox
Study of oil-mineral interactions by atomic force spectroscopy
Erin Landis

Is oyster shell geochemistry unique among tributary basins of the

Chesapeake Bay?

Augusta Maguire
Strain analysis of the Rockfish Conglomerate, Blue Ridge, Virginia
Aaron Marshall

Petrolgical and structural analysis of mafic dikes in the central

Virginia Blue Ridge

Aaron Martinez

Time-averaging in Chesapeake Bay mollusks: estimates based on

amino acid racemization of Holocene Mulinia

Brandon McCoy

Application of Gust Erosion Microcosm and LISST instrumentation

to measure erodibility and the size distribution of suspended

sediments in the York River Estuary

Casey McGrath

Kinematic analysis and strain partitioning of a mesoscale fold of

quartz arenite, Blue Ridge province, Virginia

Angela Mullins

The effects of climate change on epibiont communities in the

Neogene of Virginia

Shenandoah Raycroft

Using tree-ring derived PHDI values to reconstruct James River

salinity during the Jamestown Settlement

Elizabeth Saccoccia

Linking water elevation and salinity in the Pitch and Tar Swamp

to the James River and the shallow Jamestown aquifer

Charles Shobe

Spatially variable rock erodibility related to the interaction

between erosion rate and weathering in bedrock-floored

river channels, Great Falls area, Virginia

Monica Stone

An assessment of the frequency and cause of concentrated flow

on agricultural fields in teh Virginia Coastal Plain portion of the

Chesapeake Bay Watershed

Eleanor Trott

Thrust faulting and fault sequence in the James River Gorge and

Arnold Valley Region, Blue Ridge and Valley & Ridge provinces, Virginia

Erika Wenrich

Structural geometry and sediment thickness in the Fish Lake Basin, Utah:

a 3-dimensional analysis of gravity anomalies

---

Class of 2013

Samantha Bonanni

Ages and growth rates of Crassostrea virginica from Pleistocene

reefs in the Mid-Atlantic

Kirkland Broadwell

Comparative climate analysis of Virginia during the 20th & 21st

centuries

Patti Burton

Detailed sediment composition of the Eastover, Calvert, Old Church

and Piney Point Formations, New Kent County area, Virginia Coastal Plain

Katharine Celata

The effects of urban vs. rural land use on Cr concentrations in the

College Creek Watershed

Maxwell Cunningham

Characterizing rock erodibility and channel geometry along the

longitudinal profile of a bedrock-floored river

Lydia Cuker

Characteristics of ooids in the Middle to Late Cambrian Elbrook

Formation, Virginia

Tyler DeCourt

An evaluation of possible garbensheifer in the Chopawamsic Terrane,

central Piedmont province, Virginia

Zachary Foster-Baril

Stratigraphy, structural geometry, and deformation history of the

Neoproterozoic Rockfish Conglomerate, Central Virginia Blue Ridge

Andrew Follet

Shields up: can the "mini magnetosphere" of Mars protect

astronauts from radiation?

Sebastian Hancock

A structural analysis of the Coles Hill uranium deposit in the

Piedmont province of Virginia

William Jaeger
Analysis of Mesozoic diabase dikes in the Scottsville Basin
Thomas Alex Johnson

Geology of the Catoctin Formation in the eastern Blue Ridge,

Central Virginia: petrogenesis and tectonic signature

Kristopher Kusnerik

Reconstructiing the age and paleoenvironment of a

Crassostrea virginica reef deposit at Holland Point, Virginia

Nancy Lauer

Developing cosmogenic sodium-22 as a clock for stream water

age in Virginia's Coastal Plain

Glencora Maccubbin

Death at Jamestown 1607: a geochemical analysis of arsenic,

iron and DOC in drinking water

Dominique Paxton

Sediment analysis, x-radiography and acoustic methods to reveal

fine scale sediment laminations in the York River Estuary

Jacob Rosenthal

Geology of the Midway Mills Mesozoic basin and Mayo Creek,

Virginia Piedmont

Stephan Simmons

Kinematic analysis of ductile deformation in the Goochland

Terrane, Virginia

Kyle Stark
Troubled waters: the hydrology at Jamestown, VA
Peter Steele
Global sediment lifting of Martian dust devils
Sarah Young

Utilizing GIS to study concentrated flow from agricultural fields

in the Virginia Chesapeake Bay Watershed

---

Class of 2012

Megan Ambrose

The kinematic history of brittle deformation in the Petersburg

Granite, Richmond, Virginia area

Emma Caverly

Ephemeral organic carbon fluxes to the Chesapeake Bay from

agricultural runoff on the Virginia Coastal Plain

Isaac Clark

Flow and density driven sediment dynamics shown by dual frequency

acoustic sounder of the York River Estuary, Chesapeake Bay, Virginia

Stephen Dronfield

Tracking mineralogical changes in stream sediment composition

in the vicinity of Willis Mountain

Tess Engebretson
Assessing residence time of lead in Montane New England O horizons
Mariam Fakhroo
Strain analysis on the Buffards Formation, Piedmont province, Virginia
Lyndsey Funkhouser

Using GIS to quantify riparian buffer bypassing in the Virginia

Coastal Plain, within the Chesapeake Bay Watershed

Amanda Grant

Investigation of Pleistocene oyster population structure and growth

rates in a Piankatank River reef (Virginia)

Molly Hahn

Structural analysis of brittle deformation in the eastern Blue Ridge,

Central Virginia

John Hollis
Brittle deformation in the Hylas Zone, eastern Piedmont, Virginia
Ben Huff

Magnetic anomalies in the eastern Blue Ridge, Central Virginia:

a magnetic interpretation of subsurface structure

Andrea Jensen

Origin and tectonic significance of the Albemarle-Nelson Soapstone

Belt and associated metagabbros in Central Virginia

Erin Kwon

A comparison of task value in Introductory Geology courses and

its role in student performance & retention

Ryan Love

Morphometrics of Miocene shark, marine mammal, and reptile

teeth from the Calvert Formation, Mid-Atlantic Coastal Plain, USA

Emily Orzechowski

Meta-analysis of extinction selectivity in fossil marine bivalves

and gastropods

Kevin Quinlan
Structural geology of the Scottsville Mesozoic Basin, Virginia
Dylan Reilly
Predicting flow and measuring fluxes in buffer bypassing channels
Doug Rowland

Hydrologic and geochemical variables and their effect on groundwater

quality at Jamestown Fort, Virginia

Christine Solon

Sexual dimorphism and species selection in late Cretaceous ostracodes

from the U.S. Gulf Coastal Plain

Matt Sparacino

Variability of erodibility in bedrock-floored channels produced by

differential weathering