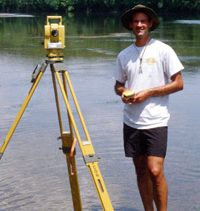 Gregory S. Hancock
Professor
Office: McGlothlin-Street Hall 216
Email: [[gshanc]]
Office Phone: 757 221 2446

Education
Middlebury College, B.S., Geology, 1989

University of California/Santa Cruz, M.S., Earth Sciences, 1995

University of California/Santa Cruz, Ph.D., Earth Sciences, 1998
Research Interests
Geomorphology, hydrology, landscape evolution, human influence on the landscape
 My research focuses on understanding the mechanics and rates of processes acting to shape the Earth's surface and the topographic changes produced by these processes. Much of my work is aimed at investigating the rates of incision and processes acting in bedrock-floored river systems, and the evolution of river form through time.  Rivers are the primary drivers of landscape evolution in most landscapes, and the rate at which rivers downcut through time generally dictates the rate at which the rest of the landscape evolves.
My research also includes applied hydrology and geomorphology. Human-induced land use changes have significantly altered surface hydrology over much of the planet, with potentially significant consequences to rivers and streams.  My students and I are working on several research projects to assess the impact of urban and agricultural runoff on streams and the success of engineered structures at minimizing these impacts.
Current Research Projects
The effects of weathering on bedrock channel erosion and form (funded by NSF Geomorphology and Land Use Dynamics)

Riparian buffer bypassing by agricultural runoff in the James and York River watersheds (funded by the Virginia Environmental Endowment and Virginia Oyster Reef Heritage Foundation)

Water quality in the shallow aquifer beneath the Jamestown fort site, Virginia, and potential implications for the health of Jamestown colonists (

See 10/17/11 History.com story: http://www.history.com/news/2011/10/17/did-jamestowns-settlers-drink-themselves-to-death/)
10Be-derived basin-averaged erosion rates along the migrating divide between the New and South Fork Roanoke Rivers, southwestern Virginia (funded by the US Geological Survey)
Terrace ages and incision rates along the South Fork Shenandoah River, Virginia, obtained from 10Be (funded by the US Geological Survey)
Publications
(updated 9/2011)
Hancock, G. S., E. E. Small, and C. Wobus (2011), Modeling the effects of weathering on bedrock‐floored channel geometry, J. Geophys. Res., 116, F03018, doi:10.1029/2010JF001908.
Hancock, G. S., J. W. Holley, and R. M. Chambers (2010), A Field-Based Evaluation of Wet Retention Ponds: How Effective Are Ponds at Water Quantity Control?, JAWRA Journal of the American Water Resources Association, 46(6), 1145-1158.
Lang, K. A., L. B. Parker, and G. S. Hancock (2010), Open File Report 10-02: Bedrock and surficial geologic map along the James River near Hardware, Virginia, Virginia Division of Geology and Mineral Resources, Charlottesville. www.dmme.virginia.gov/DMR3/dmrpdfs/OFR_10-02.pdf
Manduca, C.A., Baer, E., Hancock, G., Macdonald, R.H., Patterson, S., Savina, M., and Wenner, J., (2008), Making undergraduate geoscience quantitative. Eos, v. 89, p. 149-150.
Hancock, G., and M. Kirwan (2007), Summit erosion rates deduced from Be-10: Implications for relief production in the central Appalachians, Geology, 35(1), 89-92.
Densmore, A. L., M. A. Ellis, Y. Li, R. J. Zhou, G. S. Hancock, and N. Richardson (2007), Active tectonics of the Beichuan and Pengguan faults at the eastern margin of the Tibetan Plateau, Tectonics, 26(4).
Ward, D.J., Spotila, J.A., Hancock, G.S., and Galbraith, J.M. (2005), New constraints on the late Cenozoic incision history of the New River, Virginia: Geomorphology, v. 72, p. 54-72.
Hancock, G.S., and Manduca, C.A. (2005), Developing Quantitative Skills Activities for Geoscience Students: Eos, v. 86, p. 354-355.
Farber, D.L., Hancock, G.S., Finkel, R.C., and Rodbell, D.T. (2005), The age and extent of tropical alpine glaciation in the Cordillera Blanca, Peru: Journal of Quaternary Science, v. 20, p. 759-776.
Hancock, G.S., and R.S. Anderson (2002), Numerical modeling of fluvial terrace formation in response to oscillating climate, Geological Society of America Bulletin, 114 (9), 1131-1142.
Whipple, K. X, Hancock, G.S., and Anderson, R.S. (2000), Processes of river incision into bedrock: Implications for the dynamics of landscape evolution, Geological Society of America Bulletin, v. 112, p. 490-503.
Hancock, G.S., and Morse, L. (2000), Measuring stream discharge in the field, Journal of Geoscience Education, v. 48, p. 582.
Hancock, G. S., Anderson, R. S., Chadwick, O. A., and Finkel, R. C. (1999), Dating fluvial terraces using 10Be and 26Al profiles: Application to the Wind River, Wyoming: Geomorphology, v. 27, no. 1-2, p. 41-60.
Small, E. E., Anderson, R. S., and Hancock, G. S. (1999), Estimates of the rate of regolith production using 10Be and 26Al from an alpine hillslope: Geomorphology, v. 27, no. 1-2, p. 131-150.
Hancock, G.S., R.S. Anderson, and K.X. Whipple (1998), Beyond power: Bedrock river incision process and form, in E. Wohl and K. Tinkler, eds., Rivers Over Rock:  Fluvial Processes in Bedrock Channels, Geophysical Monograph 107, pg. 35-60.
Dick, G. S., R.S. Anderson, and D.E. Sampson (1997), Controls on flash flood magnitude and frequency, Upper Blue Hills, Utah, Geology, v. 25, pg. 45-48.
Dick, G.S., R.S. Anderson, and D.E. Sampson (1997), Monitoring flash floods in the Upper Blue Hills badlands, southern Utah, in Quaternary Geology and Geomorphology, Northern Henry Mountains, Utah., Brigham Young University Geology Studies, v. 42, part II, pg. 392-397.
Anderson, R. S., Repka, J. L., & Dick, G. S. (1996), Explicit treatment of inheritance in dating depositional surfaces using in situ 10Be and 26Al. Geology, v. 24, p.47-51.
Courses
GEOL 320: Earth Surface Processes
GEOL 314/ENSP 201: Watershed Dynamics
GEOL 315: Hydrology
GEOL 407: Numerical Modeling in the Earth Sciences