Homecoming 2009
Class of 1979 30th Reunion
I feel sorry for people who have not experienced fieldtrips, those intellectually stimulating floating parties in the great outdoors. I feel particularly lucky to have gotten to be part of fieldtrip and party that was part of the 30th reunion weekend organized by Geology Majors class of 1979.
Having been part of the class of 1978 I had to twist Rich Walker's arm to be allowed to be part of the festivities. I missed the Friday afternoon session of short presentations about the life and work of graduates, but it sounded like a good time. The Saturday night party at Dr. Clemens place was great and included slightly embellished stories about the great fieldtrips of the past.
On the Sunday fieldtrip I was blown away by our stop at Cornwallis' Cave. Growing up just across the river from the famous Yorktown cave I had seen it up close many times as a kid, but I knew nothing of the enigmatic structure of the sedimentary layers in the cave. Dr. Johnson showed us the bedding that dips fairly steeply to the west. He went on to show that vertical worm tube casts (or some kind if biological structure) indicate that there has been no tectonic tilting of the unit. Thus, the layers formed as a dipping sedimentary front advanced. As long ago as the 1830's, William Barton Rodgers, who was teaching at William and Mary, recognized that something was strange about the layers in Cornwallis' Cave. Sedimentary fronts should advance away from the eroding continent so the beds should dip to the east.
Dr. J. now has a cosmic explanation for the wrong-way-dipping beds. He made the case that they formed on the western rim of the crater formed by an impactor that hit what is now the southern Chesapeake Bay about 35 million years ago. As sea level rose above the level of the crater rim a sedimentary layer built up and propagated to the west. It is amazing to see how a long-standing, but small controversy could have an earth-shaking explanation.
Roger Buck ('78)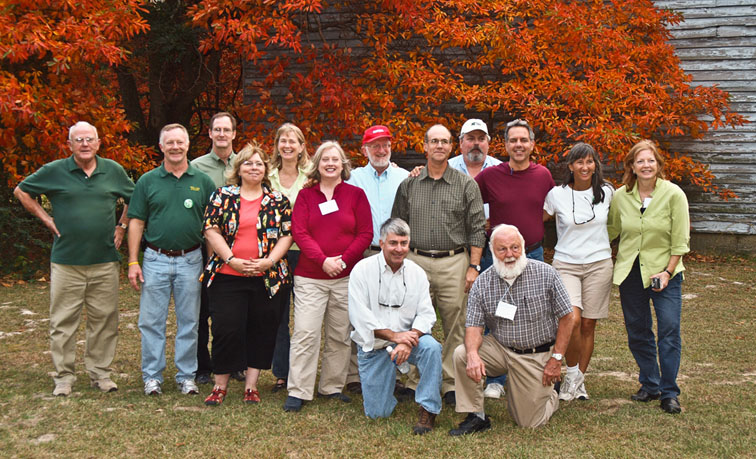 Majoring in geology at William and Mary is a truly unique experience, not only in the way that it differs from other departments at the College, but also in comparison with other geology undergraduate experiences around the country. A thorough grounding in geosciences requires a combination of book, laboratory and field study, an approach which the professors at William and Mary have understood and emphasized since the department was founded forty years ago. The size of the department is relatively small, but not too small, which facilitates creation of strong bonds of friendship and cooperation between the students as they study together for labs and tests, but particularly during field trips. This is especially true for the multi-week Geology 310 adventures. If you haven't seen it, a recent feature story in the W&M alumni magazine highlighted the history, learning and bonding that students experience on the extended Geology 310 field trips. Larger schools have a similar structure but most lack the intimacy and close, high-quality faculty-student attention.
The strength and uniqueness of this lifelong bond and friendship between geology majors became evident as the Class of '79 planned for and organized our 30th reunion in 2009. It started out with a few alumni hoping to encourage classmates to attend the reunion and ended up as a three day geology "happening". Non-geology majors applauded our team effort and reflected that they could not generate the same level of enthusiasm within their own departments. School homecoming organizers dubbed our program the Geology Department's "reunion within a reunion". Over the course of the weekend more than 50 alumni, current and retired faculty, and invited guests participated in one or all of the three days of activities. Particularly notable participants included the department's first graduate (Allen Dobey, '67) and Dr. Steve Benham who co-founded the 310 field trip concept back in the 1970's (with Jerre Johnson); Dr. Benham is now a faculty member at Pacific Lutheran University in Tacoma, WA.
Alums gathered for the first event on Friday afternoon at McGlothlin Hall where they shared personal and professional adventures. As might be expected many graduates have emigrated from Virginia and their stories mirrored modern American life - romances, marriages, children, divorce, graduate studies, successes, challenges, travel and of course, the unexpected. Some classmates are geoscience professionals, some are academics, some are working for state surveys, and many are working in jobs outside geosciences. Brent Owens provided an update on the state of the department, current faculty discussed their teaching and research, emeriti presented their latest activities, and the alums dedicated their combined reunion pledge to the department "Founder's Fund" in memory of Bruce Goodwin (wife Joan was present).
On Saturday afternoon, following the Homecoming football game, everyone gathered at Steve Clement's farm in Toana for a barbecue social (food from Pierce's, of course). Storm clouds threatened early but the sky cleared, and the rest of the afternoon and evening were spent greeting and meeting, eating and drinking, and enjoying the company and the beautiful Virginia pastoral setting. The evening came to a close as everyone shared memorable (and often humorous) stories about past classroom and field trip misadventures.
Early Sunday morning, several vanloads of former students (along with some guests) left from the Phi Beta Kappa Hall parking lot for a short geology field trip led by Professor Emeritus Jerre Johnson, Research Associate C. Rick Berquist, and classmate Dr. Kelvin Ramsey, Delaware Geological Survey. Trip leaders handed out a guidebook of the James and York River peninsula, describing the geologic formations and identifying illustrative road stops. Since our class graduated thirty years ago, the geology of the region has been rewritten; our trip leaders provided structural evidence that a meteor impacted the Chesapeake Bay about 35 million years ago (late Eocene). Another stop took us deep into the woods, where Jerre and Kelvin presented and described a karst feature that's not uncommon on the James-York peninsula: subsidence sinkholes which formed where terraces are underlain by carbonate-rich sediments of the Yorktown Formation.
This Homecoming 2009 weekend provided a memorable focal event for classmates to reconnect after years away from school. If you missed it, there are still ways to reconnect with the department and former classmates. Phone and email addresses have been updated at the department. Janette Hansen formed a "William and Mary Geology Majors" Facebook group for all graduates; it currently has 42 members and contains numerous photos, including homecoming weekend. The Department also hosts a Facebook site.
We would like to extend special thanks to the all the Geology Department hosts, particularly Carol Roe, Brent Owens, and Linda Morse. Classmates Lynn (Brewster) Wingard, Felicia Boyd, David Harris and Kelvin Ramsey all stepped up and organized the weekend events. Cindy (Folsom) Murphy coordinated with other "Year's". Steve Clement, Jerre Johnson and Rick Berquist were gracious hosts and trip leaders. Steve and Lois Benham surprised us all by flying in from Washington. We missed Ken Bick who's now retired in Phoenix (who wanted to attend, but couldn't make it). Lastly we want to thank everyone who took time to make the trek to Williamsburg for an unforgettable weekend. Let's not wait another 30 years before we meet again.
Sean Murphy ('79)