Environmental Geology/Geochemistry
Environmental Geology and Geochemistry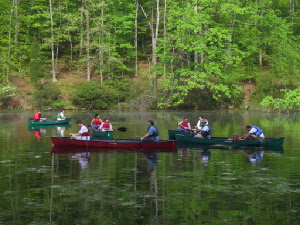 A number of faculty use watersheds as spatially-integrated units for studying the hydrology and biogeochemistry of terrestrial and aquatic environments. A principal focus is on local, developing watersheds and their response to urbanization. Faculty involved in this area include:
Chuck Bailey is a structural geologist interested in understanding the geometry and history of deformed rocks as well as the physical and chemical processes associated with deformation in the earth's crust.
Randy Chambers directs the summer REU watershed research program. His students use biogeochemistry to detect "hot-spots" for nutrient pollution in streams and ponds impacted by development.
Greg Hancock and his undergraduate students document changes in surface and groundwater flows in urbanizing streams and test the efficacy of storm water management methods in local developing watersheds.
Jim Kaste's research group measures how ecosystem quality is impacted by human activities (e.g., groundwater withdrawal, acid and metal pollution, agriculture, urban development, etc.) and global change.