Sustainability and Agriculture: It's Not Your Ordinary College Seminar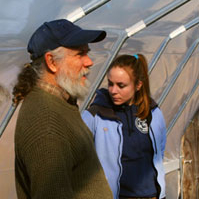 My name is D. Gabriel Kauper.  In 2003, I co-founded the W&M Farmers and Gardeners Club for the purpose of forming a community of botany, nature and food enthusiasts to work regularly at local farms and pool our interests for other projects.
 We spent Saturdays working (and eating) with farmer Charlie Maloney at Dayspring Organic Farm, located about 40 miles northwest of W&M. After speaking with Mr. Maloney and Professor Timmons Roberts, I decided to intern at Dayspring Farm in the summer of 2004 to experience and research sustainable agriculture. Mr. Maloney runs a CSA—community supported agriculture—in which subscribers invest in the farmer for a future weekly share of the growing season's produce. I participated in everything from seed to sale: transplanting, plant identification, ensuring proper growing conditions, soil development, composting, learning about beneficial plants and insects, harvesting, going to market. You name it, I did it. A grant from the Mellon Foundation supported further research on modern and sustainable agriculture, botany and native Virginia plants, soil conservation, agricultural movements, deep ecology and sustainable business models. 
The summer's work gained momentum. By fall, I crystallized the summer's research into an environmental studies senior seminar— Sustainability and Agriculture—that Professor Roberts, Mr. Maloney and I taught that spring. Included in the seminar were field trips to farms, intensive class discussions and final projects that emphasized creativity and practicality.  Readings addressed topics such as genetically modified organisms (GMOs), the lives of farmers, soil fertility, marketing organics, agribusiness and global trade issues, green business, the future of natural resource use, and the utility vs. beauty of the natural world. Authors included Wendell Berry, Paul Hawken, Wes Jackson, Gene Logsdon, Bill McDonough, Steve Lerner, Vandana Shiva and Alan AtKisson. We also shared a potluck or two.
The class rocked. It avoided abstraction by grounding students in farm work. It promoted self-reflection and sincerity by asking questions that challenged the sustainability of our own personal histories, habits and aspirations: "How did this come about?"; "Is this sustainable?"; "How could we make it so?" Final projects demonstrated a rich and interdisciplinary flavor: organic and eco-marketing, genetic labeling and global trade, backyard chickens, wild edibles, public land use issues and intentional communities. And the seminar is back by popular demand; the spring 2006 course is filled.
By Gabriel Kauper '05. This article appeared in the Spring 2006 issue of our newsletter, Downstream.