Matching Grant for Environmental Program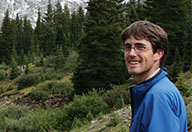 Reaching Enormous Potential
Aubrey Miller '09 has worked the last three summers for the U.S. Forest Service in Leadville, Colorado, as a wilderness ranger and as half of a two-man trail crew. 
An Environmental Policy and International Relations double major, he's pursuing an Honors research thesis examining the role of the U.S. Forest Service in managing ecosystems as the effects of climate change threaten ecosystem services and functions.
After graduation he plans to return to the mountains of Colorado and lead a trail crew and oversee volunteer projects. Then he will pursue a Ph.D. in environmental science or geography.
"My focus will be human-environment interactions and how dynamic that relationship is in the face of climate change. I'm interested in more effective translation and incorporation of hard science into policy prescription."
Our most recent grant supporting the Environmental Science program comes with a matching requirement. We're seeking $1.6 million in private funding earmarked for the new postdoctoral program.
You can contribute online now to the Mellon Foundation Match.
Andrew W. Mellon Foundation Boosts ENSP Program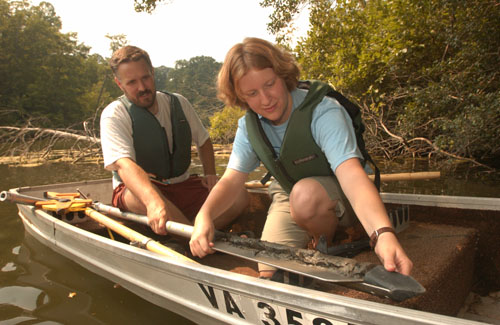 The expanding reach of the Environmental Science and Policy Program (ENSP) has been greatly enhanced by the generous support of others. 
One essential partner, the Andrew W. Mellon Foundation, has awarded the ENSP program three grants since 2000. Each of these grants has allowed the program to grow in notable ways. Faculty have collaborated to redesign the major, add a minor, expand the curriculum and research offerings, and encourage partnerships across the departments. Faculty like Assistant Professor Maria Ivanova, an expert on international environmental policy and governance, have been recruited to join the program.
"William and Mary's program stands out from those of our peers because we apply an interdisciplinary approach to environmental issues that prepares students for a broad range of careers," says John Swaddle, associate professor of biology and program director.
When the Mellon Foundation awarded a third grant to William and Mary's ENSP program, a decade-long effort to build a nationally competitive undergraduate environmental science and policy program was on the cusp of being realized. 
Of the Mellon Foundation's $1.5 million grant, $330,000 will be used to establish a Center for Geospatial Analysis. The remaining $1.17 million will create the postdoctoral program and establish an endowment: $370,000 to hire postdocs, and $800,000 directed toward an endowment that supports future postdocs. 
Yuehan Lu, the program's first postdoc, was appointed in 2008 and works with students to research estuary areas of the York River.
New Postdoc Program Supports Teaching, Research
The new postdoctoral program brings an environmental researcher to the College every year, where she or he is mentored in teaching and research and conducts high-profile research projects with undergraduate students. Postdoc positions rotate across the sciences, social sciences, and humanities, integrating all aspects of Arts & Sciences into the Environmental Science and Policy Program.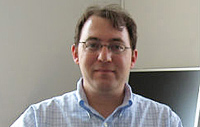 Integrating Teaching and Research
Chris Marcoux was appointed the program's second postdoctoral fellow in 2009 and will complete a two-year term. He obtained his Ph.D. in political science from the University of Massachusetts at Amherst.
He is working with professors and students at the College's Project Level Aid (PLAID), with a research focus on the distribution of international environmental aid.
"The ultimate goal of the research is to allow donor countries to give international aid more effectively – which should have beneficial, real-world consequence," Marcoux said.
He has introduced a new undergraduate class on the science and politics of the global environment, is coordinating a speakers' series, and plans to teach a research seminar.
"All the students I've worked with are motivated and hard-working. I have no doubt that we're going to be publishing research with students in regular academic journals."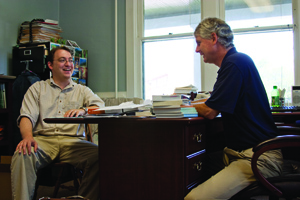 A Challenge from the Mellon Foundation
Permanent funding to support the postdoctoral program will require a $2.4 million endowment. To secure these funds, the Mellon Foundation has challenged the College to raise $1.6 million in matching gifts for the postdoc program by December 31, 2010. Your support will help us meet the Mellon's challenge and sustain the postdoc program.
"We are gratified that the Mellon Foundation has again recognized the excellent work of the Environmental Science and Policy program," says Carl J. Strikwerda, dean of Arts & Sciences. "I am confident that alumni and friends of the College will step forward and answer the Mellon Foundation's challenge to build an endowment for our postdoctoral fellows program."
Learn More
For more information about how you can support the Environmental Science and Policy program, please email the [[as-development, Executive Director of Development for Arts & Sciences]]  or call 757-221-3712. You can also learn more through the program's website at www.wm.edu/as/environment.