Little Kenya, Big World: A Journey Through the Small and Big Environmental Institutions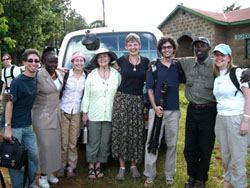 You know you have reached Tumo Tumo, a small  agricultural town in the foothills of Mt. Kenya, when the crude paved road turns into a sticky clay path and the van driving you to your destination slows to a crawl in an attempt not to veer off the steep winding road to the valley below.
Past the woman carrying straw and verdant gardens surrounded by coffee trees (quite a contrast to the previous days sojourn through the city of Nairobi) awaited an excited community ready to greet us and open a new understanding of what it means to be a steward of the environment.
Our group, including Professor Maria Ivanova and recent William and Mary graduate Sarah Wyatt '06 traveled to Tumo Tumo to meet a local chapter of the larger Green Belt Movement, a Kenyan-based environmental NGO. Led by Nobel Peace Prize winner Wangari Maathai, this grassroots political movement helps reforest the 98 percent deforested Kenyan landscape while empowering women by promoting environmental conservation, community development and civic awareness.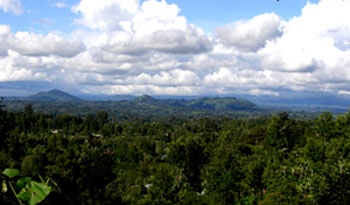 We were greeted by an enthusiastic community ready to share their stories, hopes and homes. Over the course of three days, we became part of a family; living under the same roof and participating in daily chores. Although we were often captivated by Tumo Tumo's exotic surroundings and remarkable culture, the Green Belt staff managed to convey the shear importance of a healthy environment led by active community stewardship. In Kenya, stewardship may come at a price: Julian, a leader of the area's group, lost a tooth while fending off thieves, intent on cutting down the thousands of trees planted by the movement in an attempt to make a quick dollar by selling the wood.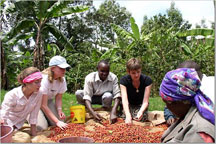 The personal nature of community environmental governance was quite a contrast from our experiences only a few days earlier in the sprawling United Nations compound in Nairobi, the nation's capital. T-shirts, muddy sandals and Kikuyu sing-alongs were replaced by suits, clipboards and formalities. As part of an ongoing project to better understand Global Environmental Governance, the system of institutions in charge of the stewardship of our global commons, we attended the 12th meeting of the United Nations Framework Convention on Climate Change (UNFCCC).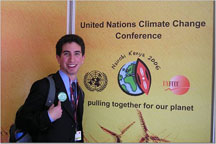 Amid the hustle of the convention's crowded breezeways, we attended planning sessions and informal meetings. Not content to merely observe, we engaged the participants of the convention. Surveys in hand, we interviewed a broad spectrum of business leaders, government officials and technical experts. Through our interviews we gathered a variety of perceptions on the strengths and weaknesses of the current system of global environmental governance which will influence our ongoing research.