Environmental Research at W&M Awarded $1.5 million from Mellon Foundation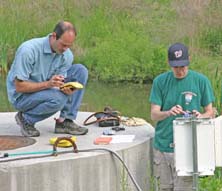 The grant, to the Environmental Science and Policy Program, funds two innovative programs and comes with a matching requirement.
You can
contribute online
now to the Mellon Foundation Match.
The grant will allow the College to establish two new highly innovative programs: a Center for Geospatial Analysis and a "teacher-scholar" postdoctoral program in the interdisciplinary environmental science program.
"We're delighted to receive this critical support from Mellon, adding two important components to our Environmental Science and Policy program," said William and Mary President Gene R. Nichol. "Even more welcome, however, is Mellon's continued support for William and Mary's notion of a liberal arts research university-pressing for excellence in both endeavors. We are grateful for Mellon's partnership in this work."
The Environmental Science and Policy Program is one of William and Mary's most successful interdisciplinary programs, drawing dozens of participating faculty from several departments and from the Virginia Institute of Marine Science. Timmons Roberts, a professor of sociology, is the program's acting director. Two other faculty members will take lead roles in incorporating enhancements to the program. John Swaddle, associate professor of biology, will oversee the establishment of the postdoctoral fellows program. Swaddle also is the program's director, but is currently on research leave. Greg Hancock, associate professor of geology, will coordinate the establishment of the Center for Geospatial Analysis (CGA).
The Mellon grant will provide for the establishment and staffing of the Center for Geospatial Analysis, one of the first in the nation at a liberal arts college of William and Mary's size. The new center will expand the College's use of geographic information systems (GIS), an emerging technology that uses computers to plot, layer and organize data. GIS is a powerful, versatile and rapidly expanding research tool, noted Carl Strikwerda, dean of arts and sciences at William and Mary. Many researchers at William and Mary are already using GIS technology, Strikwerda said, noting that the CGA to be made possible by the Mellon funding will allow more students and faculty from across the College to learn GIS techniques.
"The power of GIS is that there are so many disciplines that can benefit from it. Some really exciting research in history has been done by just taking data points that are a piece of land at a certain point in time," Strikwerda said. "On one level, there's no story there, but if you put together 80,000 pieces of land and plot them over 10 years or 20 years, you can see patterns start to emerge-landholding patterns, migration, racial segregation or desegregation. Much of that has been either invisible or anecdotal at the qualitative level, but when plotted in GIS, suddenly these things emerge."
The dean said the CGA will enhance William and Mary's signature integration of research with teaching, particularly at the undergraduate level. The second aspect of the Mellon grant, establishing the postdoctoral program in environmental science and policy, also will benefit both students and faculty across the College.
Strikwerda said that a series of postdoctoral fellows on staggered two-year terms, two at any one time, will participate in the program. Postdoctoral fellowships are temporary positions held by scholars with new Ph.D.s., and are more common in large research-oriented institutions, although William and Mary typically has a few in the physics and applied science departments. He explained that having post-docs in humanities and the social sciences will put William and Mary at the front of a new movement to transition graduate students more fully into balanced and complex faculty jobs they are likely to hold-where teaching and research both make demands on their time and attention.
"We'll have post-docs rotate among humanities, social sciences and natural sciences," Strikwerda explained. "At any one time there will be a humanist and a natural scientist or a natural scientist and a social scientist." Unlike many postdoctoral programs at large universities, postdoctoral fellows in the environmental sciences will teach a class and help mentor undergraduates, as well as conduct research.
"The idea behind the postdoc program is to leverage what William and Mary does best, that is, to encourage the intimate integration of teaching and research in our faculty and in our students' educational experience," Swaddle explained. "The postdoctoral stage--post-Ph.D. but pre-faculty--is an oddity in many academic careers as it often provides no real training on how to be a fully functioning faculty member. Our environmental program provides an ideal structure for the new Environmental Postdoctoral Scholars program. Not only do we have a great track record of our faculty integrating research into the classroom and working with students on meaningful research projects, but we're also thematically integrative, with many projects crossing traditional disciplinary boundaries."
Strikwerda explained that $800,000 of the Mellon grant is to start an endowment for the post-doctoral program. The College must raise an additional $1.6 million to complete the endowment. For this matching endowment the College will turn to private donors-many of whom are eager to see their resources support the role the College can play in our collective understanding of environmental concerns. Roberts pointed out that the Mellon Foundation has been a stalwart supporter of William and Mary's environmental program for years.
"In 2000, Mellon funded us for three years to develop the environmental science and policy minor and later we were able to create a major and hire new faculty," Roberts said. "Then, in 2004, Mellon funded us for a second round, for three more years. In turn, the College itself has provided sustaining funds for these major initiatives. We're thrilled with this whole new level of support from Mellon for a program that they've helped us to build."
A private philanthropic institution with assets of approximately $5 billion, the Andrew W. Mellon Foundation makes grants on a selective basis to institutions of higher education, independent libraries, centers for advanced study, museums, art conservation and performing arts organizations.