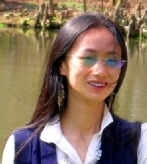 Xin  Conan-Wu
Associate Professor of Art History
Office : Andrews Hall 209
Phone: (757) 221-2530
Email: : [[xwu]]
Areas of Specialization: East Asian arts and visual culture

Research Interests
The history of arts and visual culture in China (10th-century to the present); representation of nature in East Asian landscape and garden art; cross-cultural encounters between East Asia and the West; global contemporary environmental art and landscape architecture.
Education
Ph. D.             History of Art; University of Bristol, United Kingdom, 2008
M. Arch.       History of Architecture; McGill University, Montreal, Canada, 2001
M. S.               Urban Design; Tongji University, Shanghai, China, 1996
B. A.                City Planning; Tongji University, Shanghai, China, 1992
Selected Publications
Books

Vision and Place-making in the Neo-Confucian Academies of Song China (manuscript in progress)

Patricia Johanson and the Re-Invention of Public Environmental Art, 1958–2010. Hardback by Routledge/Ashgate, 2013; paperback by Routledge, 2017.
The New Art of Landscape: Conversations between Xin Wu and Contemporary Designers 景观启示录—吴欣当代设计师访谈. Bilingual in English and Chinese. Beijing: China Architecture and Building Press, 2012.
Reconstruction of Modernity: Patricia Johanson's House & Garden Commission. 2 vols. Washington DC: Dumbarton Oaks; distributed by Harvard University Press, 2008.
Articles & chapters
"Garden Art" in A Companion to Chinese Art, Martin Powers and Katherine Tsiang, eds. (New York: Wiley-Blackwell Publishing, 2016), 410-430.
"Landscape & Garden, History & Identity in a Neo-Confucian Academy (12th-18th Centuries)" in Interlacing of Words and Things: Beyond Nature and Culture, edited by Stephen Bann  (Washington D.C.: Dumbarton Oaks; distributed by Harvard University Press, 2012), 65-80.
"Yuelu Academy: Landscapes and Gardens of neo-Confucian Pedagogy" in Studies in the History of Gardens & Designed Landscapes (UK/USA), vol. 25, no. 3 (July-September, 2005): 156-90.
"Gardens as Cultural Memory: The Eight Scenes of the [Yuelu] Academy" in Die Gartenkunst (Germany), vol. 19 (1/2007): 93-108.
"Walk through the Crossing: The Draw at Sugar House Park, Salt Lake City" in Contemporary Garden Aesthetics, Creations and Interpretations, edited by Michael Conan (Washington D.C.: Dumbarton Oaks; distributed by Harvard University Press, 2007): 141-62.
"Contemporary Landscape Design in China 中國當代景觀設計", Landscape Architecture Frontiers 景觀設計學, vol. 1, no. 1 (February 2013): 68-72.
"Beyond the Picturesque 走出畫境" in  Frontier of Environment Aesthetics 環境美學前沿, ed. Cheng Wangheng (Wuhan, China: Wuhan University Press, 2008), 117-39.
 "A New Aesthetics of Landscape 景观新美学", preface for Landscape of Rock 穿越岩石景观,  Chinese edition of Michel Conan, The Crazannes Quarries by Bernard Lassus, © 2004 (Changsha, China: Hunan Science and Technology Press, 2006), 1-6.
Grants and Awards
Suzann Wilson Matthews Summer Research Award, College of William & Mary (USA), 2012 & 2013 & 2014
Graham Foundation Advanced Studies in the Visual Arts (USA) project grant, 2009-12; for book Patricia Johanson and the Reinvention of Public Environmental Art, 1958-2010 (Hardback by Routledge/Ashgate, 2013; paperback by Routledge, 2016)
Research Grant for Social Sciences and Humanities, McGill University (Canada), 2000
The Margaret Gillett Research Awards, McGill University (Canada), 1999
Excellent Prize (interior and furniture design for Pierre Cardin flagship store, Shenzhen), Exhibition of the Art of Architecture and Design (Guangdong, China), 1995    
Related Links