Year after year, writer-in-residence program serves as beacon for aspiring authors
For ingenuity and eccentricity, it would be hard to top William & Mary's first two writers in residence, nearly 40 years ago. The program was the brainchild of Milton Lesser '48, better known as Stephen Marlowe -- and in literary circles by the noms de plumes Marlowe, Adam Chase, Andrew Frazier, Jason Ridgway and, once in 1961, Ellery Queen. Marlowe offered to serve as the College's initial participant, and did so in 1973-74.
The author of more than 50 novels, Marlowe was initially best known as the creator of detective character Chester Drum in his 1955 novel "The Second Longest Night." He also crafted novels from the lives of real people – among them Christopher Columbus, Francisco Goya, Miguel de Cervantes and Edgar Allan Poe.
Marlowe, who served a second stint as writer in residence in 1981-82, recruited 1975 writer in residence Herbert Burkholz. Primarily a mystery novelist, Burkholz was a boyhood friend of Clifford Irving, who crafted one of the great literary scams of all-time, a 1971 fake autobiography of Howard Hughes that netted Irving a 17-month prison term. Burkholz and Irving later collaborated on several lightly regarded spy thrillers.
Burkholz may have been a fine teacher, but at least one former faculty member remembers him – and others – as much for their unconventional, bohemian lifestyles.
"This is one of the educational things that is fairly characteristic of writers in residence," explained W&M Professor Emeritus Scott Donaldson, who knew Marlowe well. "You get the occasional wild man on campus, the person who doesn't live by ordinary rules and standards, yet manages to scratch out some kind of existence.
"Having that odd sort of cat around can be useful for a campus; someone who has managed to achieve the kind of life that's possible for you – and he's absolutely nothing like anyone else around you."
According to English Department Chairperson Susan Donaldson (no relation) "we owe the vitality of the program to Donaldson and his wife, Vivian."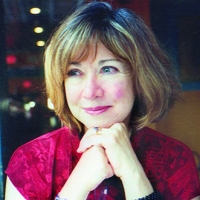 After years watching the program struggle to find enough money to consistently make the position appealing – sometimes unsuccessfully – Scott and Vivian Donaldson began making gifts to fund the program in 1988, finally endowing it in 2006. Their generosity has enabled the College to lure literary stars and stars-in-ascent. Among the long list: journalist and oral historian Wallace Terry; biographer and Pulitzer Prize finalist Blake Bailey; poets Michael Mott, Cornelius Eady and Amy Clampitt, science-fiction writer/poet Thomas Disch; novelists David Robbins '76, JD '80 and Christopher Bram '74; and creative non-fiction author Kristen Holmstedt.
"We try to see what our needs are," said English Professor and Creative Writing Director Nancy Schoenberger, a former writer in residence whose committee identifies and selects the writers in residence. "For many years we didn't have enough people to teach fiction-writing workshops at a time when the demand for fiction was very, very high. For several years, we invited fiction writers because that's what we needed.
"Then two years ago, because of Scott Donaldson, we started to include this relatively new genre called creative non-fiction. We were able to hire Blake Bailey, then Kirsten Holmstedt, whose work with women in combat resulted in very contemporary, very personal stories. Her work was geared more toward journalism, we didn't have a course like that, and we received great reviews from the people she touched last year."
Scott Donaldson, who taught English at W&M for 28 years and is one of America's foremost literary biographers, explained that the endowment came from his belief that it was important for aspiring writers to experience "something that was not a part of the ordinary preparation you get in college."
"Vivian and I decided that if we were going to do something for the College this was a good thing to do," he said, "to have enough of an endowment to enable the College to bring in someone at least for a semester each year."
The value of any program is evident in the accomplishments of its alumni. Perhaps no one embodies that success like Mike D'Orso '75, M.A. '81 author of 16 narrative non-fiction books, including his latest with actor/activist Ted Danson, "OCEANA: Our Endangered Oceans and What We Can Do to Save Them."
While pursuing his Master's degree in English in 1980, D'Orso, whose background was in print journalism, was accepted into the spring seminar taught by writer in residence Mary Carter. Her impact on D'Orso, who has authored eight national bestsellers, was profound.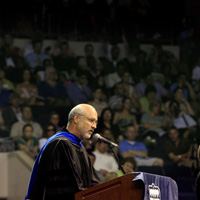 "I wasn't particularly impressed with the work I produced (almost exclusively short stories), but she was very encouraging, and pushed me to free myself in terms of 'voice' and 'attitude' and 'tone,' all of which had its mark on my eventual nonfiction writing," he said. "I've built a career writing what's now labeled 'narrative nonfiction,' which is simply applying all the tools and standards of journalism to a story in terms of reporting and research, and then applying the tools of fiction writing to the actual writing -- the result is true stories that read like novels.
"Looking back, I'm sure I owe at least some of my success on the 'writing' side of that equation to the very early seeds that were planted in Mary Carter's seminar. She was a wonderful teacher -- both demanding and encouraging."
Carter wrote a letter of recommendation for D'Orso that he has saved – and still cherishes -- 31 years later.
"I've had considerable experience with gifted students, in journalism as well as fiction. None has so immediately demonstrated so much promise, nor so rapidly begun to produce evidence of it, than Mike D'Orso."
"Those words," D'Orso said, "along with the rest of the letter, meant a ton to a 26-year-old beginner."
Carter's letter is emblematic of a practical side many writers in residence have adopted on behalf of their students. Take 2010-2011 writer in residence Kristen Holmstedt.
The author of two non-fiction books on women in combat, Holmstedt was well-versed in the rigors of self-promotion and marketing, increasingly a fact of life as publishers trim staff and promotional budgets in response to the languid economy.
"Because she had to do a lot of her own marketing, she got very, very good at it, and she was able to talk about what you have to do to get your work out there," Schoenberger said. "That's a big problem, there are more people writing poetry than reading poetry; you really have to get your work out there. There's such competition for attention, so a person has a choice: Do I want to read a book, or do I want to watch videos? Spend three hours on Facebook, or watch a movie? It's harder and harder for writers to get their work out there."
W&M's writer-in-residence program allows students to bridge that chasm -- or at least deal with which side of the divide they find themselves.
"It is mountainous, that's true," says Joshua Poteat, William & Mary's writer in residence for 2011-12. "The odds are against all of us to do anything, really. Just staying alive each day is a success for some people. And being able to study the writing of poems is a luxury I'm well aware of. With that in mind, one has to forget about monetary success, forget about ego and fame, and attempt to translate the beautiful, sad world we inhabit. If it is done well enough, maybe the capitalist success will follow (which always makes our parents happy). If it doesn't, at least we've spent our time doing something that makes us better, more considerate and thinking humans."
A full version of this article originally appeared as a University Relations news feature.