"A History of Windsor"
By William Wright '12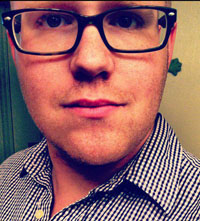 Across the splintering covered bridge, the graveyard
of the repurposed and repossessed and the lost;
the glorious days of industry a mausoleum
for the house of ghosts in which Vermont was written.
The eccentric uncle, who for decades ground gears
with one squinting eye, the left side of his face
no longer speaking with the right,
tells stories in his halting, garbled manner:
of the Whites, the druggists whose patriarch survived fire
only to be dealt death by a cup of water;
of property disputes, the Rice family land-grab;
of the machine shop emptying into the sluice of men
on the main street when a grandfather blew the lunch whistle
at the Goodyear plant; how he would fumble for his keys
with his crushed hand, the bones splintered in a pattern
like a map of his life, leaving a wife for a mistress in later hours.
Then the Miller house at the peak
of undulating hills installed there as a ship
whose sea has drained away, its sails still unfurled
over the miniature townscape, shuttered,
bolt thrown at the front door when Chick, last scion,  
defying gravity a final time did violence to the hillside
ten minutes outside of town one foggy morning, the specter
of his single prop plane breaking apart over downtown in perpetuity.
And Chief Byron hangs his desiccated hand from the car window
to slow the approach of outsiders, his corpse propped up
in the tradition of whimsical law enforcement
on the lookout for guileless, noble desperadoes;
where all is quiet in the daylight and the seasons change
as if they were yoked to timepieces on church spires
whose guts are rank with wounded legacy,
bowels clogged with moth-eaten portraiture;
and drunks doff their hats in the Legion hall and Elks club,
where the Rotarians tolerate the slurred outbursts of the football
coaches who drink their dinners through cracked lips, down hoarse
throats, and leave the joints with pride in their veins.
Most family members will go to rest and die in the same building
in which, as babes, they were born, the operating theater now
filled with games and puzzles, berber carpet, and a TV
to quiet the brains that bristle and rage on, memory-less;
when Red sets his teeth and cocks his ragged cap against the wind,
thumbs his way past the lone grocery with the broken horse ride,
the string of Christmas lights between Putnum and Dowry blocks goes out,
the happy Greek on the pizza sign darkens, his brow troubled with sleep.
* Above poem awarded 3rd place in the Academy of American Poets Prize category for best single poem as part of the 2012 English Literary Awards.