Representation of Student Voices in The Gallery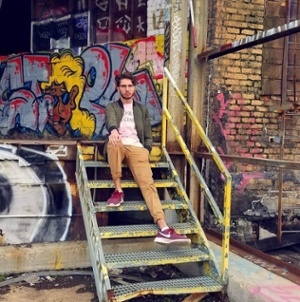 When he first came to campus, Maxwell Cloe wanted to find a way to express his interest in literature. In his first semester, he found himself drawn to The Gallery for its focus on student submissions. As a student-run and student-focused publication, this literary magazine has become an outlet and a spotlight for art and creativity on campus. Through his work with this publication, Cloe has found a home that fosters his love for writing, while also a connection to others who share that love.
In high school, Cloe had been a good STEM student, but his English teachers always saw his talent and offered him more avenues for exploration via book recommendations and supporting his writing. In college, a similar experience prompted him to re-evaluate his math major. After taking a class on American short stories, he decided to pursue English.
"Like all art, it's the voice of a certain people—or a certain perspective—that often-times can be excluded… I think there's a lot of literature people don't care about, but that they should care about … because of the interesting perspectives that might be outside what's generally expected as the norm. A lot of the time it's difficult for us to get those perspectives, and I believe that literature is a way into that," Cloe said, describing his love for literature—a main reason for his involvement with The Gallery, as well as the English department.
Working with The Gallery, Cloe enjoys seeing the different perspectives that students on this campus portray through their art. As one of two co-editor-in-chiefs, he does not vote on the pieces that will be published because he has the honor of seeing the names of those who submit. When he reads submissions, he enjoys seeing the names of his friends, but also loves to see new names and new voices.
If he could tell the student body anything about The Gallery, it would be that they love to see new submissions, so people should not be afraid to try publishing their work. While not everyone's art makes publication the first time around, he encourages everyone to continue sharing their perspectives via creative writing, photography, short stories, etc.
"The Gallery is always accepting work. Don't be afraid of rejection at first. My freshman year, I submitted maybe 10 pieces, and none of them were accepted… It's like anything else: if you keep practicing, you're going get better, and people are going to like it."
Even in his junior year of college, as he continues to work with
The Gallery
, he still cherishes its focus on student voices. He sees the publication as a body of work from student voices in all corners of campus, chosen by students with different perspectives and interests. While his area of study focuses on his love of writing as an art form, it has also helped him to facilitate a space where people from all majors can express that same love for literature through their own art work.