2017-18 Concord and Willis Scholarship Recipients
A pair of English majors, sophomores Jessie Urgo '20 and Bianca Bowman '20, will soon be taking the world by storm after receiving the Concord Traveling Scholarship and John Willis Scholarship, respectively, providing them with financial assistance for their travels abroad.
Funded by two William and Mary alumni, Anne Rivers Gunton '00 and David Gunton '99, the Concord Traveling Scholarship allows students the opportunity to travel outside the United States and write about their experiences. Urgo will be traveling to Argentina and exploring the South American country with her family, her maternal grandparents having lived in Argentina since the rise of Benito Mussolini in Italy and Francisco Franco in Spain.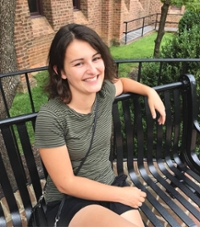 Urgo says she hopes the trip allows her to connect with her relatives and gain deeper insights into life in Argentina.
 "I want to go back now and become more of an insider, and experience it not as a tourist … live there, more than just visit there, and actually get to know my family," she said. "What really fascinates me about places is the way place and people interact, and so I want this to be more than just about an experience of a different area and more of an experience of a different area through the eyes of the people I'm with, and through my eyes too in connection to them."
 Started by the Willis family to honor former William and Mary English professor John Willis, the Willis Scholarship supports students traveling or conducting research for honors theses or other writing projects. Bowman will be studying abroad in Chiang Mai, Thailand, pursuing her academic interests in writing and environmental policy as well as working at an unpaid internship.
 Bowman noted how the financial support from the scholarship will help her experience and learn about
 Thailand and its people beyond a simple classroom setting.
"This scholarship will help me a lot in terms of expanding upon the experiences I will already have the chance to participate in, things like weekend trips,: she said. "I'm taking a class that costs extra money called 'Highland Ethnic Peoples and Social Transformation of Northern Thailand,' which includes a hill tribe field study, and that's what the extra money is for. We go for a weekend of backpacking and hiking to such a remote village that you can't get there by car, and we just stay with a family and learn anthropologically what their life is like, and I get to write about it. … That's the type of thing the scholarship will really help me with."
 Both Urgo and Bowman expressed how their time at William and Mary, and specifically their experiences in the English department, have prepared them for their respective journeys across the world.
 "The English department [has] ... given me a lot of confidence in my skills and writing, and improvement in my writing," Bowman said. "I felt really supported by a lot of my professors here, and I feel super confident going into a new academic environment that these skills will be able to make me successful academically and through documenting my experiences."
 Urgo echoed those sentiments: "I want to be simultaneously humble but confident, and I think humility does usually come with confidence ... the people at William and Mary, both students and faculty, have helped guide me into that kind of confidence and that kind of humility and that forgetting of self in the pursuit of something beautiful."
 We wish both Jessie and Bianca well on their travels to Argentina and Thailand, and look forward to seeing what they learn during their time away from Williamsburg!