Professor MacGowan Honored with College's Plumeri Award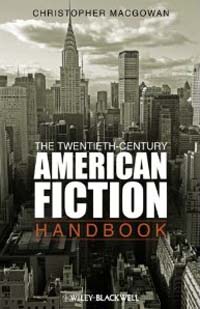 The English Department's latest Plumeri award winner is Professor Christopher MacGowan, a renowned authority and editor of William Carlos's poetry and the editor/author of several other books, including a new volume, Twentieth-Century American Literature: A Handbook, published by Wiley-Blackwell this year. The Plumeri awards were established three years ago by Joe Plumeri, W&M Class of 1966 and a former member of the Board of Visitors, in order to recognize twenty faculty members each year who have proven themselves to be exceptional teachers and scholars over a sustained period of time. Professor MacGowan is the fifth member of the English Department to win a Plumeri award since 2009. The department's other Plumeri winners include Professors Adam Potkay and Suzanne Raitt in 2009 and Professor Paula Blank and Susan V. Donaldson in 2010.
By all accounts, the Plumeri award Professor MacGowan has received is richly deserved. He is the editor of the three authoritative volumes of William Carlos Williams's poetry, and he has also edited a 2003 volume titled Poetry for Young People: William Carlos Williams and the well-received 1998 New Directions volume The Letters of Denise Levertov and William Carlos Williams, which offers an important window onto one of twentieth-century poetry's most important and enduring literary friendships. He is the author to the invaluable survey Twentieth-Century American Literature, a biographical dictionary issued by Blackwell in 2003 that covers the historical and cultural context of twentieth-century American poetry and includes extended essays on more than four dozen poets, discussions of the century's pivotal poems, and a section on key themes, poetry's relation to the other arts, and the role of anthologies in canon formation.
Professor MacGowan has also proven himself time and again to be one of the best and most dedicated teachers in the English Department. He has been particularly successful working over the years with honors students who invariably produce polished, substantive theses that demonstrate both their capacity for graduate work and his talent for bringing out the best work in our most gifted students. He is equally devoted to those students who require extra tutoring, particularly with their writing, and who have received the full benefits of his time, patience, and dedication to seeing that all his students, whatever their capacity and performance, receive the best possible education that William and Mary can provide.
Over the years Professor MacGowan has been the quiet recipient of a slew of awards, including the 1994 Phi Beta Kappa award for his scholarship and teaching, the Margaret H. Hamilton Professorship in 1999 for a three-year term, and the outstanding advisor award for freshmen, sophomores, and transfer students for 2001-02. Being presented the Plumeri award is his latest achievement to date, but by no means will it be his last.