Honoring the Life and Letters of Professor Emeritus Jenkins, 1926–2010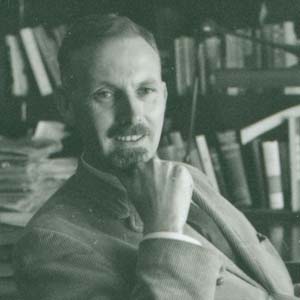 Colleagues and friends gathered December 1, 2010, to honor David Clay Jenkins through the sharing of memories, anecdotes, and readings of poetry. Professor Jenkins died November 4 after a long illness brought on by a stroke.
Some forty friends, colleagues, and former students from all over Virginia and beyond gathered in the Wren Great Hall to read some of David's favorite poems, ranging from Goronwy Owen to Dylan Thomas. Poets Barbara Drucker Smith, David Essex, Henry Hart, Bob Maccubbin, and Michael Mott generously shared their own work to celebrate David's storied career at William and Mary; and colleagues John Conlee, Bill Davis, Carl Dolmetsch, Bob Maccubbin, Terry Meyers, and Jack Willis traded touching and often comic anecdotes about David's adventures and enthusiasms in and out of the classroom.
Audio: John Conlee reads excepts from "Cad Goddeau," from the Book of Taliesin
Audio: Susan Donaldson reads Emily Dickinson, "Death sets a Thing significant" (No. 360)
Audio: Jack Willis reads Dylan Thomas, "Do Not Go Gentle into that Good Night"
Professor Nancy Schoenberger organized the event, and Bob Jeffrey, David's friend and fellow devotee of Welsh poetry, served ably as master of ceremonies.
A Life of Letters and Wide Interests
Professor Jenkins joined the English Department at William & Mary in 1956 as an instructor in modern poetry and advanced and critical writing. At the College, he identified and conducted extensive research on an eighteenth-century member of the College faculty, Goronwy Owen, a person of Welsh lineage who ran afoul of the sectarian leaders of the College and eventually migrated to central Virginia. Goronwy Owen became something of an iconic figure to Professor Jenkins, and his interest led him to publish several articles on his hero's life and times.
He was also a scholar of Alexander Pope and Dylan Thomas and published research papers on both. As a member of the faculty, Professor Jenkins established the William & Mary Review, a journal dedicated to publishing and circulating undergraduate, faculty, and graduate original writing. He retired from the College in 1992 as professor emeritus.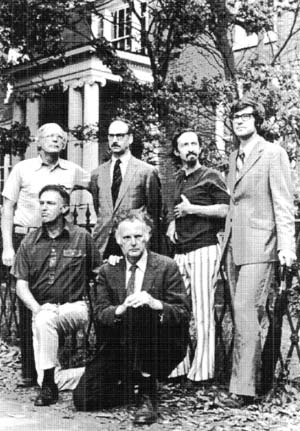 He was known among a wide circle of friends for his eclectic interests in fields as diverse as puppetry, printing, foreign languages, and participation in music groups, where he was proficient on the recorder. He was a published author of fiction in The New Yorker magazine and articles of local interest in the Virginia Gazette.
David Clay Jenkins was born June 1, 1926, in Birmingham, Ala., to William Arthur Jenkins Sr. and Virginia Anne (Bell) Jenkins.
After two years at the University of Alabama, Birmingham, he joined the U.S. Army on Oct. 6, 1944. Between 1944 and 1946 he served with the 78th Infantry Division, participating in the Battle of the Hürtgen Forest in Belgium during September 1944 to February 1945 as a member of the 311th Infantry Regiment and crossing the Rhine River on March 8, 1945. He was honorably discharged on May 22, 1946, with the rank of staff sergeant.
He attended and graduated from the University of Alabama in 1948 with a degree of bachelor of arts. On receiving his undergraduate degree he was designated a Fulbright Scholar and studied contemporary Anglo-Welsh writing at the University College of Wales, Aberystwyth, from 1949 to 1951. In 1951 he was awarded his master of arts degree in English from the University of Alabama. Thereafter, he attended the University of Iowa where, in 1956, his Ph.D. degree in English was conferred with a doctoral dissertation entitled "Writing in Twentieth Century Wales: A Defense of the Anglo-Welsh."
He was preceded in death by his parents; his brother, William Arthur Jenkins Jr.; and sisters, Lillian Ann Jenkins Lee and Virginia Jenkins Skelton.
Bequest to the English Department
A few weeks before the memorial reading, the English Department faculty discovered that Professor Jenkins had left his entire estate to the College of William and Mary. Half will go to Swem Library, which is the proud recipient of his legendary book collection. The English Department will receive the remaining half.
Professor Jenkins holds the distinction of having taught William and Mary's first creative writing classes. The department, fittingly, plans to use his gift to support its creative writing program, to fund housing for the yearly Scott Donaldson writer-in-residence and enhance the literary awards bestowed each spring on the best aspiring student writers.