Patrick Hayes Writers Series, 2011-12
Thanks to a generous bequest from Patrick Hayes in 1991, the English Department at the College of William and Mary has been inviting distinguished writers to the campus each year to read from their work and meet with student writers.  This year, the Muscarelle Museum is partnering with the English Department to hold the readings in the gallery, to which the public is cordially invited.
Thursday, Sept. 8 – Joshua Poteat, poet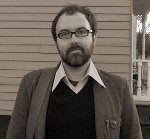 Joshua Poteat is the 2011-2012 Writer-in-Residence at the College. His first manuscript, Ornithologies, won the 2004 Anhinga Poetry Prize, and his second manuscript, Illustrating the Machine that Makes the World: From J.G. Heck's 1851 Pictorial Archive of Nature and Science, was accepted as part of the Contemporary Poets Series from the University of Georgia Press/Virginia Quarterly Review.  A recipient of numerous prizes and fellowships, he is a member of the writing faculty at Virginia Commonwealth University.

Thursday, Oct. 6 – Robert Mezey, poet and scholar
Robert Mezey's poems, prose, and translations have appeared in many journals, including  the New York Review of Books, The New Republic, The New Yorker, Harper's, and the Paris Review. He is the author of nine books of poetry, including The Lovemaker, (winner of the Lamont Prize), Evening Wind, (winner of a PEN prize), A Book of Dying, and Collected Poems, 1952-1999 (winner of the Poets' Prize). As a translator of poetry, he is noted for his translation, along with Dick Barnes, of all of Jorge Luis Borges' poetry.
Wednesday, Oct. 19 – Thulani Davis, playwright, novelist, screenwriter

Thulani Davis is known for her work in a number of genres. Her publications include Playing the Changes and All the Renegade Ghosts Rise (poetry); Maker of Saints and 1959 (novels), and Everybody's Ruby: Story of a Murder in Florida (play).  Her latest book, My Confederate Kinfolk, is a memoir exploring her family's black and white roots in America during and after the Civil War.

Thursday, Nov. 10 – Kevin Young, poet
A winner of numerous prizes and awards, Kevin Young is one of the most celebrated young poets writing in America today. He is the author of six books of poetry and is the editor of five others. His first book of poems, Most Way Home, was selected for the National Poetry Series by Lucille Clifton. His second book, To Repel Ghosts, a "double album" based on the work of the late artist Jean-Michel Basquiat, was a finalist for the James Laughlin Prize from the American Academy of Poets. His most recent book, Dear Darkness, won the Southern Independent Bookseller's Award in poetry and was featured on NPR and in The New Yorker as one of the best books of that year.
Thursday, Feb. 9 – Jayne Cortez, poetry and music

Jayne Cortez, poet, musician, and performer, is the author of ten books of poetry, including The Beautiful Book, Jazz Fan Looks Back, and Somewhere in Advance of Nowhere. Her performances, rooted in jazz, include nine recordings. Her latest CD recording with the Firespitter Band, Taking the Blues Back Home, was produced by Harmolodic and Verve Records. She was married to saxophonist Ornette Coleman from 1954-1964, and is the mother of jazz drummer Denardo Coleman. Her reading at the Muscarelle will be accompanied by an instrumentalist.

Thursday, March 29 – Rita Dove, poet (to be held in the Kimball Theater)
Rita Dove served as Poet Laureate of the United States and Consultant to the Library of Congress from 1993 to 1995 and as Poet Laureate of the Commonwealth of Virginia from 2004 to 2006. She has received numerous literary and academic honors, including the 1987 Pulitzer Prize in Poetry and, more recently, the 2003 Emily Couric Leadership Award. In 2006 she received the coveted Common Wealth Award of Distinguished Service (together with Anderson Cooper, John Glenn, Mike Nichols, and Queen Noor of Jordan), in 2007 she became a Chubb Fellow at Yale University, in 2008 she was honored with the Library of Virginia's Lifetime Achievement Award, and in 2009 she received the Fulbright Lifetime Achievement Medal and the Premio Capri (the international prize of the Italian "island of poetry").
Thursday, April 12 - Cheston Knapp, editor, fiction writer, and essayist.

Cheston Knapp, a 2004 William and Mary graduate, has distinguished himself early as both a writer and editor. Beginning as an intern at Tin House magazine, he went on to direct the annual Tin House Writers Workshop and is now the magazine's managing editor. He has published two essays in Tin House, including "Beirut," a comic, poignant memoir of fraternity life at William and Mary. His story, "A Minor Momentousness in the History of Love," was published in One Story in March 2010.