Herron is Back in the "Conversation"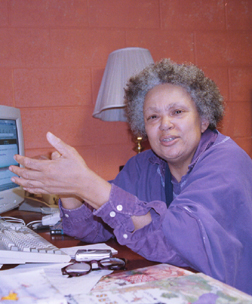 Carolivia Herron seeks peace: with her past, with her future, with her presence here at William and Mary.
Herron, the English department's 2003-2004 writer-in-residence, admits that her life had grown "out of kilter" prior to coming to the College. Her writing, which had stunned the literary world with publication of her novel Thereafter Johnnie and her children's book Nappy Hair, had stalled. Her pioneering Web work, which had opened doors to learning "math and science through literacy" for elementary-school kids, had become a struggle. Her access to the kind of "conversation" necessary for "professional balance" was gone.
In hindsight, the problem stemmed from teaching elementary school for the past two years. It consumed her. "Young children drink up your spirit and soul," she says. "All night long I'm thinking about them and worrying about them, and I can't write very well."
Here, that is changing. It can be sensed in the rustle of her purple robe as her flying arms animate the Merlin-like wizard from a student's story she reads. It can be seen in the eye-spark glancing against the orange windowless walls of her office as she envisions Asenath and Our Song of Songs, her forthcoming novel. It can be realized as she grips her volume of John Milton: "You know if I have an office without a copy of Milton in it, I don't consider it a real place. When I bring my Milton, you know it's real."
Peace, for the moment, seems at hand.
Welcome of the Blue Heron

For some time, she has been working on Asenath. In it, Asenath, a main character, sets out from Virginia in a boat and heads toward the Mediterranean. The scenario resulted from a "visual apparition," a "way of thinking," resulting from Herron's epilepsy.
"I remember hearing the words, 'If it becomes too hard for you, remember to leave by this route and have peace,'" she says. To Herron, a convert to Judaism, it became apparent that the destination was Israel. That it would start in Virginia was a given.
"I knew it was from the Virginia shore," she explains. "One of my slave ancestors arrived somewhere near the Virginia beaches. Mythic tradition has it that she walked from the Virginia shore up through this area (Williamsburg) to Richmond, where she was bought by a lawyer."
That history presented a dilemma: "One of the basic themes of this novel is peace," Herron says. "I'm Jewish, and I think about the Palestinians. And I thought, how can I call for peace in Israel when I'm so mad about Virginia enslaving my ancestors. Coming here is part of my making peace."
The process got off to an unexpected start. In August, Herron went to College Landing Park while waiting for her parking permit to be issued. She recalls: "I was just sitting there thinking, I'm here, and my ancestors were here, and what am I going to do? Lo and behold, a blue heron leaps out of somewhere, gets up on the bannister and starts doing this dance up and down. My name is Herron. It seemed like a conversation. It was a welcome."
Enthralled with Archimedes

In her office, Herron leans toward the screen, where she is color-coding the text submitted by students in her advanced writing and fiction course. "Blue means I like it; red means I'm making a change to it; green means the text has topped me," she says. Many of the electronic pages have fewer color marks than she would have anticipated.
She looks at a piece by Cassie Smith-Christmas. "Not only is she talented, but I can't find any cracks in her story," Herron says. "She evokes a strong sense of winter in Ireland; even as I talk about it, I find myself huddling down as if to be warm."
Another submission, The Awesomeness of Archimedes, delights her. The author, John (Patrick) Shaffner, has written "about a wizard who runs out of paper and pencil and uses syrup to write messages to people," she says, her entire body beginning to mimic the movements of the imaginary character. "He falls into to the water as he tries to pin this note up to tell the world he's there, and as he falls, he's like a quasi-Merlin, who says, 'I am a fish, and I can swim in this water,' and as he tries it, he starts drowning." She is drowning; drowning in laughter with the mind that created the fiction.
She admires her students. The first assignment she gave involved their introducing themselves by way of the blue heron. She began the story; they wrote subsections. From their performance, she at once considered them colleagues. She learns from them; she insists that they learn from each other.
And she teaches.
One lesson: "The biggest flaw of new writers is that they try to be universal by being nonspecific," she says. "Dostroyevsky is universal because he is so specific. You read him, and you know exactly what it looked like on a specific street in St. Petersburg."
Another lesson: "When something fails, it's usually because the writer didn't take the image far enough," she explains. "If something is wrong with a paragraph, invariably it's not something you should erase, or take back, but you should do it harder, do it bigger, do it wilder."
A Public Reading and a Dedication

Between classes, Herron anticipates a visit from her mother, Georgia, who will be 80 years old in a couple of weeks. She also looks forward to her public reading at the College (Nov. 13), a reading that will include Asenath, which is progressing faster now—in part because "teaching here has reconnected me with the conversation I need," she says.
Many of her writings reflect such conversation.
"Thereafter Johnnie was a fictionalization of three students at Villanova University. Asenath is a fictionalization of my experience of getting a Ph.D. at Harvard," she says, "although William and Mary is figuring into that." "Yes, I'll read Nappy Hair, and probably the intro to Thereafter Johnnie, but I'll concentrate on Asenath," she says—"probably the part where an 11-year-old girl who has three dollars goes into a bookstore and finds a copy of John Milton's poetry. It becomes the masterpiece of her life," she says.
That passage strikes close to home. At 11, Herron discovered Milton. She carries a copy of Milton with her to peaceful places now. She has carried one here.