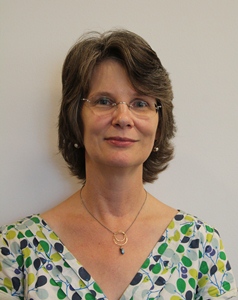 Monica Brzezinski Potkay
1957-2018
With Sorrow
Monica Potkay, Associate Professor in the Department of English, passed away on April 6th, 2018 with her husband Adam and her son Aaron at her side.
Monica was born in Chicago on May 22, 1957, and was proud to have grown up in the South Side neighborhood known as "Back of the Yards." She received her BA and MA degrees from Loyola University, Chicago, and a PhD in medieval literature from the University of Virginia. Monica taught for three decades in the English Department at William & Mary, where she also served for two years as Associate Chair and for many years on committees including the Personnel Committee and the Undergraduate Program Committee. Until recently, Monica was Assistant Dean of Academic Advising and Studies in Arts & Sciences. She was also active on a number of College-wide and Arts & Sciences committees, including the Committee on Academic Status and the Committee on Degrees, among many others. She was co-author of Minding the Body: Women and Literature in the Middle Ages, 800-1500, and of a number of articles, including a prize-winning study of Marie de France's Lais, published in the journalChristianity and Literature. She also co-wrote with her husband and colleague Adam Potkay a popular series of recorded lectures on the Bible and literature. Monica was a devoted teacher who was much loved by generations of students, many of whom became converts to the joys of Old English under Monica's tutelage. Monica won the Alumni Fellowship Award for Excellence in Teaching in 1996.
Monica was a devout member of Saint Olaf's Catholic Church. She enjoyed European travel, ancient and modern languages, Polish-American traditions and Italian cuisine, opera and AM radio, films and mystery novels, crossword puzzles, and her brisk daily walk. She greatly loved and was loved greatly by her family, friends, colleagues and neighbors, many of whom offered invaluable support during her difficult final months.
Visiting hours will be at Bucktrout Funeral Home from 5-7 on Wednesday, April 11th, and a funeral mass will be held at St. Olaf's Catholic Church (off Route 60 in Norge), at noon on Thursday, April 12th. In lieu of flowers, donations may be made to the Hospice of Williamsburg, the Massey Cancer Center, the St. Olaf's Church Food Pantry, or a charity of your choice.  
Areas of Specialization
Old English; medieval literature; Arthurian literature; the Bible and literature, medievalism
Books

Potkay, Monica Brzezinski, and Regula Meyer Evitt. Minding the Body: Women and Literature in the Middle Ages, 800-1500. London: Twayne, 1997.
Background
B.A. and M.A., Loyola University of Chicago; Ph.D., University of Virginia