Department celebrates Homecoming 2011
During Homecoming weekend in October, faculty and current students joined returning alumni at two celebratory English Department events.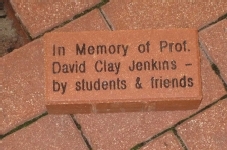 We had a small gathering at the William and Mary Alumni House to celebrate David Clay Jenkins' contributions to the College. Jenkins, a respected long-time English professor, passed away last year. To honor his legacy, the English Department hosted a short commemorative ceremony and the installation of a memorial brick, inscribed with his name, in Clarke Plaza at the Alumni House.
"The English Department looks forward to honoring David Clay Jenkins' memory by using his generous endowment to add improvements and opportunities that will benefit the Creative Writing Program," says English Department Chair Susan Donaldson.
After the dedication, faculty, students, and alumni gathered in the Great Hall of the Wren Building for the second annual English Department Homecoming reception. Light refreshments and hors d'oeuvres were served as guests mingled and enjoyed a reading by our 2011-12 Writer-in-Residence, Joshua Poteat. Poteat, an award-winning poet, is teaching advanced-level English courses this year as part of Writer in Residence program. 
 We've posted a gallery of photos taken at the Homecoming reception. Enjoy! And please consider joining us next year, in October 2012.