Economics Club Alumni Panel Highlights the Importance of a Liberal Arts Education
You don't have to be an economics major or minor to benefit from a course or two in economics. A basic understanding of economics will make you a better citizen and a better consumer.
The Economics Club hosted an Alumni Panel on Homecoming weekend in the newly renovated Tucker Hall auditorium. The panel provided students with an opportunity to hear from our Alumni and learn how a degree in Economics from the College of William and Mary can help you throughout your career and help you to challenge and debate ideas, take seriously views different from your own, and explore boundaries.
The Alumni Panel highlighted the importance of a liberal arts education and gave students valuable advice to help students best take advantage of their experience here at the College of William and Mary. William & Mary prepares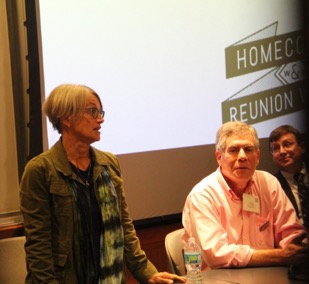 students to lead in whatever fields they enter, to thrive in a complex, changing world and to make a difference in their communities, states and nations. This is something that we can clearly see in the work that our Alumni are doing. The Alumni that came to speak in our panel have had wonderful experiences ranging from work at the Uber Marketplace (yes, our Alum is in part responsible for surge pricing, a true response to supply and demand), to a career on Wall Street at Barclays Capital in the Investment Banking Division, to working as an associate at the prestigious law firms at Weil, Gotshal & Manges in DC, practicing antitrust law, to settling down in retirement to serve as a community volunteer.
Panelists, Paul Staneski '77, Deb Habel '77, Harry Chernoff '77, William Brennan '85, Michael Araj '06, Jonathan Goldsmith '12, John Kirn III '12, Jarett Walker '13 and Princess Johnson '17, provided valuable insight into importance of the diversity in your experiences, courses and opportunities that are provided here at the College of William and Mary.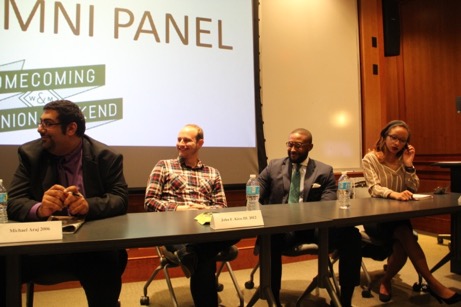 The panelists spoke about their careers after graduation, from work in consulting to graduate school in Economics, Business and the Law, to management work in government and business. They also urged students to think for themselves and challenge their assumptions, a cornerstone of the learning experience at the College of William and Mary. William & Mary strives to engage students in competing ideas through inquiry, research, experimentation and application. Students actively embrace and wrestle with concepts and ideas.
Student feedback from the event was tremendous:
"I thought the event was an excellent way for students to both expand their network and also get a perspective of where the job market has been and where it may be going in the future for economic majors. I made some great connections." - Thomeka Watkins, '19
"I loved the diversity of profession and ages which were represented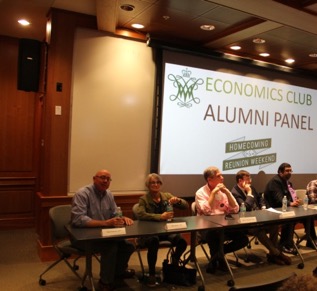 at this years alumni panel! Our alumni were all highly intelligent, charming, and helpful (Go Econ!). We discussed the importance of an economics degree here at William and Mary, but also the importance of taking classes outside of our major. A few of the ideas that were highlighted throughout everyone's talk was the importance of gaining a competitive advantage, leadership, and thinking critically." - Kalide Endale, '18
"It was interesting to hear perspectives about economics from 1970s graduates alongside stories from more recent alums!  Education has of course changed, especially with the introduction of technology. However, it's cool to think that everyone has learned the same foundational economic concepts which are still being taught today.  Additionally, the importance of liberal arts was emphasized by most everyone, which was really encouraging because it's one of my favorite things about William & Mary.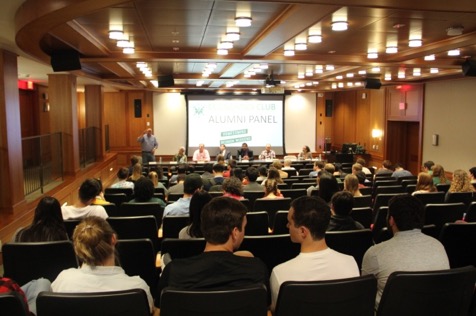 The very diverse careers chosen by the panelists really proves the versatility of economics, and how it can be combined with other majors like history and law.  It's exciting to see that economic concepts learned in class have meanings which are applicable to real-life work and government policies which we hear about from news and media.
Something else I heard the panelists say was that they came to William & Mary intending to major in another field but discovered how much they liked economics after taking Econ 101 or 102.  I can definitely relate, as I'm currently taking 101 and find it's very intriguing! " - Kathryn Ziccarelli, '21
For more information or if you are interested in joining the Economics Club mailing list to learn about future events please send an email to Prof. Rui Pereira at rmpereira@wm.edu.