Conference Inspires Women Computer Science Students
Should the fields of Science, Technology, Engineering, and Mathematics find ways to tap into half the world's experience and potential? Increasingly the answer is a resounding YES, and many efforts are underway to encourage women to engage the STEM disciplines.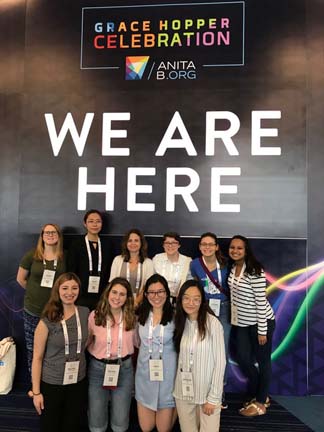 In this area the Department of Computer Science has long been a standout, achieving results that are high above national averages. In 2018 the department again fielded a group of students to attend the world's largest gathering of women technologists, the Grace Hopper Celebration, held September 26-28 in Houston, Tex. The conference aimed to "support and inspire women to futher their careers, break boundaries, and transform the world of technology."
"This year, I led a group of twelve female W&M students to the conference," said Professor Evgenia Smirni (Computer Science). "The conference program offered a host of parallel events, from technical presentations to professional development."
"Most notably, the conference featured a career fair where our students interviewed extensively and landed offers for internships and full-time positions with many companies – including ones that do not recruit from William & Mary."
Of the students attending, the department sponsored seven using private funds contributed to the department. Four students received scholarships from the conference, and one was funded by a company.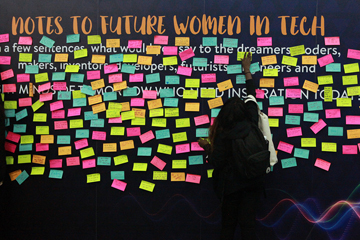 And what did the students think about their experiences?
Martha Gizaw '19: "Such advanced concepts as machine learning and bioinformatics inspired me to dream big when it comes to doing on-campus research. One of the senior scientists even encouraged me to submit one of my posters to be on display at next year's conference!"
Sheng Long '20: "To be able to witness that many female technologists and talk to them is very beneficial and really pushes me out of my comfort zone (in a good way). My most important take-away from this conference is that I am as qualified as anyone else to work in any place where my skills could bring positive changes."
Sonia Jindal '19: "Seeing 20,000 women in computing gather to celebrate each other is really a beautiful thing. The number of opportunities provided during the three days of this conference to develop myself and my career was amazing."
Rachel Oberman '20: "There is something very empowering about being surrounded by such a large community of women in computing coming from so many different technical backgrounds and countries. I personally have gotten many professional connections, interviews, and referrals from companies I met at the conference, including a competitive internship offer from a tech company. I was also able to learn about different career paths, skills, and jobs from the tech seminars and keynote speeches I attended."
Linda Wu '20: "Grace Hopper is so empowering and refreshing. It's a great way to get caught up on the currents of the tech world, and also a great way to meet inspiring female role models. I had multiple interviews and even walked out with an offer!"
Rachel Coughlin '19: "The conference reminds me why I decided to pursue Computer Science in the first place – because I can do amazing things. Future-planning-wise it's a dream, because it helps you and motivates you to get your job search on track. Inspiration-wise it's a dream, because you get to hear from other women who were in the same exact place as you at one point in time, and their advice is invaluable."
Aparna Nagaraj '19: "I'm forever grateful for this opportunity. In my capacity as president of the Society of Women in Computing at W&M, I hope that the College continues to support this effort and is able to provide this opportunity to any W&M student."