On May 17, the Department of  gave a rousing send off to the stellar Classical Studies grads of the class of 2015!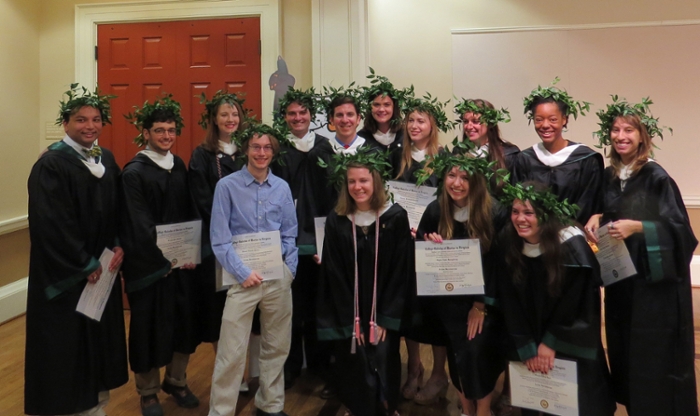 (Front, L to R: Samuel Parker, Maura Brennan, Skyler Sprayberry, Margaret Byrd; Back, L to R: Tejas Aralere, Joseph Palame, Callie Angle, John Marlett, Joseph Ayanian, Mary Kathleen Connors, Victoria Jansson, Jacey Smith, Tiara Jackson, Claire Niemann.  For the first time, our graduating class received their baccalaureate diplomas as true baccalaureati (literally, 'crowned with berry-bearing laurel'.)
A special macte virtute ('well done!') to this year's award winners:
Callie Angle: William J. Hogan Award for Outstanding Achievement in Classical Studies
Victoria Jansson: SCS Award for Outstanding Student in Classical Philology
Joseph Palame: CAMWS Award for Outstanding Student in Classical Literature
Maura Brennan: Department of Classical Studies Award for Outstanding Student in Classical Archaeology
A new feature was the awarding of a Postbaccalaureate Certificate in Classical Studies to the first graduate of our new post-bac program, Rachel Greenfield! 
(Rachel Greenfield receiving her Post-baccalaureate certificate from Prof. Donahue)
Our graduates also gave us their traditional shout-outs:
Callie Angle:
Callie Angle is graduating with majors in Anthropology and Classical Studies. She has also had a strong connection with the College's Judaic Studies Department. Her activities during school have included serving as Classics Club President and on the executive board of William and Mary's Quidditch team (Yes, the fictional sport from Harry Potter. No, they can't fly.) After today's graduation, she will have twelve blissful days of rest before working on an archaeological dig in Israel. She would like to thank her professors for being so kind and understanding throughout her academic career. In addition, Callie would like to thank her friends and family, particularly her parents, for always believing in her. As the future is opening up in front of her, she is reminded of the following quote from Louisa May Alcott,  "I am not afraid of storms, for I am learning to sail my ship." Callie has taken these words to heart and is excited for the amazing opportunities that await her in the coming year.
Tejas Aralere:
One of Tejas's favorite memories with the department was being completely mystified at emails from Athena Glaukopis (a.k.a. Dr. Irby) telling him to convene with his peers at the statue of Lord Botetourt in front of the Wren building and that "All would be revealed there." This memory of being inducted into Eta Sigma Phi Classics honors society came full circle when he was involved with inducting the newest members of the society this past Fall.  He hopes to pursue studies in philology with a focus on Greek and Sanskrit and teach classics at the college level.
Joe Ayanian:
Joseph plans to work before pursuing a graduate degree in Classical studies. His favorite memories include his two study abroad experiences in both Rome and Greece, as well as the many enriching interactions he had with both his professors and classmates. He would like to thank them for their constant support and passion, for which he is eternally grateful.
Maura Brennan:
After four incredible years in the Classics Department, having opportunities like participating in the first W&M Study Abroad trip to Greece, working closely with several professors on Independent studies and an Honors Thesis, all the while learning how to be come a well rounded classicist and scholar, Maura is extremely excited to continue her study of Classics at the graduate level. Next year she will be attending the University of Cincinnati to pursue a PhD in Classical Archaeology, with a focus on ceramics. While she cannot wait to being the next chapter of her academic life, Maura is going to miss William & Mary and the Classics department quite profoundly.
Maggie Byrd:
I will be returning home to Richmond, Virginia, and will be pursuing career opportunities both at home and abroad.  My inspiration to work abroad stems directly from my amazing experience studying abroad in Rome and Pompeii with the Department last summer.  It was an extraordinary opportunity to learn, make friends, and realize just how much I enjoy the Classics - leading to my eleventh hour decision to declare it as a second major, a choice I could not be happier with.
Mary Kate Connors:
Mary Kate is moving to New York City after graduation and is considering accepting the offer to join Skadden's global attorney recruiting team. As the token non-Latin/non-Greek speaking Classics Major, Mary Kate would first like to offer her sincerest apologies (as a student of the philosophy and film studies departments as well, she claims the "scheduling never worked out"). During her four years in the classics department, she's taken professor Panoussi's Greek Civ final wearing a toga, served her friends a full Roman dinner using recipes of Apicius, crafted professor Spaeth a Ceres-style wheat-crown while in Ostia (which she did wear for a bit, bless her), and tended to three fish respectively named Hephaestus, Scipio, and Geta.  For four years she intended to buy a specific pair of non-prescription glasses to be worn in classics classes, effectively becoming her classics classes glasses (but then never did). After hearing all of this, she would like to thank the entire department for putting up with her for so long and for being so wonderfully supportive during her time at The College.
Rachel Greenfield:
It's been a wonderful five years in this department, and I am forever grateful for the people here, who have really molded me and helped me figure out what I truly enjoy. I will miss this school, but I'm excited to not have an immediate plan for the first time in 18 years, though I do hope to pursue comparative semitics at some point in the future.
Tiara Jackson:
Looking towards the future, I plan on becoming a literary agent so that way I can discover the next JK Rowling. My favorite memory in the Classics department is probably taking my first semester of Latin at the beginning of my sophomore year with Professor Panoussi. She had this really cool bucket of chalk with a bunch of different colors, which she used to outline sentences on the board. It's because of her and that chalk that I know what a direct object is!
Victoria Jansson:Victoria Jansson will be attending the City University of New York next year in their PhD program in Classical Philology. She will miss William & Mary and the Classics Department very much and is already looking forward to visiting! It's impossible to choose a favorite memory but one of them would have to be getting lunch after Greek classes with her best friends on Fridays, and occasionally seeing all the Classics professors at Nawab.
John Marlett: 
I will be moving to Austin, Texas, to work as a product manager for Adams Globalization upon graduation.
Claire Niemann:
Claire Niemann has enjoyed studying Greek here at the College, especially having the opportunity to read Antigone in ancient Greek and Harry Potter in modern Greek as a senior. She also studied abroad in Greece over the summer, focusing on studying the Erechtheion on the Acropolis, while visiting the many art museums Athens has to offer. She aspires to a career working for the front office of a team in the National Football League, though she will always continue to learn about the classics.
Joseph Palame:
Next year, I will, hopefully, attend the William and Mary post-baccalaureate program in Classical Studies, with aims towards teaching Latin to high school students. My Greek and Latin professors have expended much time and energy in helping me understand grammar. But more importantly, they have cultivated my love of ancient languages, rekindling a dormant passion of mine, reminding me that I want to spend my life teaching others, and shedding light on my path and my goals.
Sam Parker:
The past four years I have spent at William and Mary have been some of the best of my life.  I will always remember my time here fondly as I move on into the work force.  Thank you for the opportunity to experience an enriching college experience.
Jacey Smith:
I have enjoyed my time so much as a Classics major the past four years that it was quite difficult to come up with a favorite memory. One part of my experience however that I am incredibly grateful for are the friendships I have made. I met my best friends Victoria and Aaron in the Classics department my freshman year in Greek 101 with Professor Oakley. Together we spent six semesters in a row learning Greek and reading all kinds of crazy things, then spending our Friday afternoons after class hanging out. This was definitely a highlight of my Classics career. As sad as I am to leave, I am looking forward to attending the University of Baltimore Law in the fall.
Sky Sprayberry:Sky Sprayberry will be moving to Washington, DC to begin her next chapter.  Moving away from the world of Classics, she will be working as a federal consultant for Booz Allen Hamilton, taking with her the intellectual curiosity, research, and writing skills that the Classics department has instilled in her.  She is beyond thankful for the endlessly interesting classes she has had the opportunity to take, the memories she has created (particularly when studying abroad through the Rome and Pompeii program), the friends she has made, and the caring professors she has had the chance to get to know and learn from in her time here.