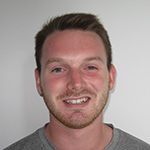 Nicholas  Race
Chemistry M.S. Candidate
Faculty Advisor
Research Interests
Immobilization of water-stable, proton reduction catalyst on semiconductors for use in artificial photosynthesis systems.
Education
B.S. Cum Laude December 2015
Towson University
Major: Chemistry
Honors
Graduate Studies and Research Recruitment Fellowship, 2016-2018
Academic Positions
Undergraduate Research Assistant, Towson University 2015
Postbaccalaureate Teaching & Research Assistant, W&M Summer 2016
Graduate Teaching & Research Assistant, W&M Fall 2016 – present
Publications & Presentations
Race, N. A.; Hartley, C. L.; Zhang, W.; Screen, M. E.; Barden, B. A.; McNamara, W. R. Immobilization of Iron Polypyridyl Complex on TiO2 Semiconductor. Poster. American Chemical Society Conference, Division of Inorganic Chemistry, Washington D.C. (2017).
Race, N. A.; Lau, S.; Dias, R. P.; Martin-Culet, K. R.; Sivey, J. D.; Roberts, A. L. Quenching and quantifying free chlorine and free bromine using 1,3,5-trimethoxybenzene (TMB). Poster. Gordon Research Conference, Drinking Water Disinfection By-Products, South Hadley, MA (2017).
Race, N. A.; Sivey, J. D.; Bickley, M. A.; Victor, D. A. Influence of often-overlooked brominating agents on sequential bromination rates of anisole.  Association of Environmental Engineering and Science Professors Research and Education Conference, Yale University, New Haven, CT (2015).
Education & Career Objectives
Considering pursuing a PhD or seeking employment, preferably with a focus on environmental chemistry or renewable energy.