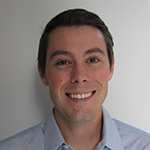 Matthew McCarron
Chemistry M.S. Candidate
Faculty Advisor
Research Interests
Fluorescent probe detection of mercury in aqueous media
Education
B.S. May 2014 The College of William and Mary
Major: Chemistry
Minor: Biochemistry
Academic Positions
Undergraduate Research Assistant W&M Fall 2011 – Spring 2014
Postbaccalaureate Teaching & Research Assistant, W&M Fall 2016 – present
Publications & Presentations
J. M. Blake-Hedges, S. H. Greenspan, J. A. Kean, M. A. McCarron, M. L. Mendonca, K. L. Wustholz, "Plasmon-Enhanced Fluorescence of Dyes on Silica-Coated Silver Nanoparticles: A Single-Nanoparticle Spectroscopy Study," Chem. Phys. Lett. 2015, 635, 328-333.
Education & Career Objectives
After finishing my MS in Chemistry, I am planning to continue my education through a PhD program.