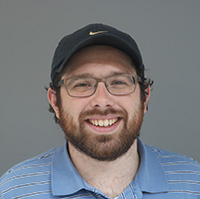 Matthew Kessler
Chemistry M.S. Candidate
Faculty Advisor
Research Interests
Inorganic chemistry, sensing materials, structural elucidation techniques, charge transfer complexes
Education
B.S. Roanoke College 2016
Major: Chemistry
Academic Positions
Post-baccalaureate Teaching assistant and research assistant, W&M Summer 2019-present.
Publications & Presentations
Poster presentation on the synthesis and characterization of silver gallium sulfide nanoparticles at ACS 2015
Paderick, S.; Kessler, M.; Hurlburt, T. J.; Hughes, S. M. "Synthesis and Characterization of AgGaS2 Nanoparticles: a Study of Growth and Fluorescence" Chemical Communications 2018, 54 (1), 62–65.  
Barnes, F. H.; Nicholas, A. D.; Melzer, H.; Cormier, K. P.; Kessler, M. D.; Patterson, H. H.; Pike, R. D. "Triphenylarsane Oxide Complexes of Lanthanide Nitrates: Polymorphs and Photophysics" Zeitschrift fur Anorganische und Allgemeine Chemie 2019, 645, 1043–1051.
Education & Career Objectives
I want to pursue an advanced degree in chemistry to better equip me with valuable skills and knowledge to be used advantageously in my career.