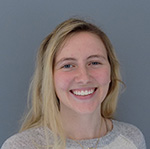 Mackenzie Kelley
Chemistry M.S. Candidate
Faculty Advisor
Research Interests
My undergrad research was centered around organic synthesis of small molecule modulators of Lecithin–cholesterol acyltransferase and lipoprotein lipase. I was also part of a project to determine the mechanism by which gold (III) chloride is reduced by certain amino acids to form nanoparticles. Both projects were heavily reliant on the use of proton nuclear magnetic resonance to characterize compounds. I am eager to learn a new NMR application, single-sided NMR, to study interfaces formed by epoxy systems in various conditions.
Education
B.S. December 2018, American University
Major: Biochemistry
Honors
Gloria A. Likins Endowed Scholarship (AU)
NASA/Mathias STEM Summer Research Award (AU)
Schwartz Undergraduate Research Fellowship (AU)
Academic Positions
Research assistant (AU)
Supplemental Instructor (AU)
Publications & Presentations
None
Education & Career Objectives
I hope to go to medical school.