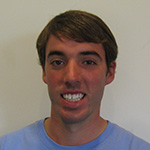 John Halonski
Chemistry M.S. Candidate
Faculty Advisor
Research Interests
Utilization of the Glaser-Hay Reaction in the synthetic preparation of biologically relevant polyynes and the incorporation of unnatural amino acids into proteins for the purpose of immobilization and modification of protein function
Education
B.S. Summa Cum Laude May 2016 Christopher Newport University
Christopher Newport University
Major: Biochemistry and Cell/Molecular Biology
Minor: Leadership Studies
Honors
Canon Scholar Christopher Newport University
Biochemistry and Cell Biology Scholarship Christopher Newport University
Dean's List, Christopher Newport University, Fall 2012-Spring 2016
Kranbuehl-Thompson Graduate Fellowship W&M, 2016-2018
Academic Positions
Postbaccalaureate Teaching & Research Assistant, W&M Fall 2016 – present
Publications & Presentations
Halonski, John F., Crane, R. M., Edwards, R. J., and Carney, J. M. "Synthesis of Dihydropyrans using a 2nd Generation Tandem Reagent" 2016. Department of Molecular Biology and Chemistry Christopher Newport University (Presentation)
Lampkowski, J. S.; Uthappa, D. M.; Halonski, J. F.; Maza, J. C.; Young, D. D. "Utilization of Alkyne Bioconjugations to Modulate Protein Function" J. Org. Chem. 2016, 81, 12520-12524. 
Education & Career Objectives
After obtaining an MS in Chemistry, I plan to pursue a career in the pharmaceutical industry with emphasis on drug design, in addition to becoming an educator.