Weingartner Professorship in International Studies
Weingartner Initiative on Deliberative Democracy (WIDD)
The Weingartner Global Initiative began in 2009 thanks to a generous gift from Werner and Mary Anne Weingartner.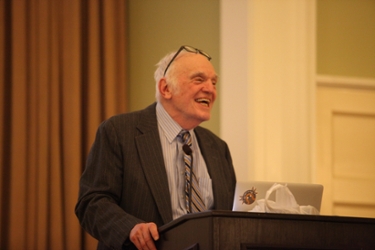 The Weingartner Initiative on Deliberative Democracy began in fall 2014 as a program under the Weingartner Global Initiative.  WIDD begins each fall with the selection of a new cohort of student Weingartner Global Fellows.  These students, with the assistance of Professors Clay Clemens and Joel Schwartz, are introduced to the literature on deliberative democracy; select a policy topic that will serve as the focus of multiple deliberations on campus and elsewhere to be held in the following fall term; identify the primary policy options for addressing the topic they have selected; and prepare an issue booklet that will be distributed to participants before they participate in a deliberation.

In fall, 2017 the WIDD program conducted deliberations on the issue of undocumented unaccompanied minors into the U.S. Through the summer grants, Weingartner Fellows developed elements of an issue guide  – a pamphlet outlining prominent alternative positions on the selected topic.