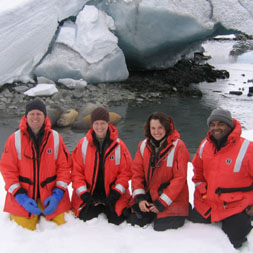 William & Mary students may pursue a BA or BS in Interdisciplinary Studies (INTR) by choosing from the following programs: Africana Studies, Environmental Science and Policy, Film and Media Studies, Gender Sexuality and Women's Studies, and Medieval and Renaissance Studies. Students may minor in the INTR programs mentioned here, and also in Biochemistry, Educational Studies, Italian Studies, Judaic Studies, and Public Health. They may also self-design an INTR major.
For more information on these and all undergraduate majors and minors, please visit the Arts & Sciences website.
Learn more about these interdisciplinary opportunities that are available to William and Mary students:
Center for Geospatial Analysis: Learn how to visualize your data by using powerful geographic imaging systems (GIS).
Journalism Programs: W&M students gain invaluable hands-on reporting experience and work alongside award-winning journalists.
Study Away: Alaska. Alabama. The Southern Border. W&M students can travel to these locations and more as part of their Study Away experience. Their time away will be spent conducting research or working on a project-based learning opportunity.
Vertically-Integrated Research Teams: Whether you're an undergrad, a graduate student or a faculty member, there's a place for you on these teams of researchers.
Wellness Applications: These 1 credit courses expose students to a variety of topics related to wellness.
William & Mary Highland Collaboration: 

Researchers will work to identify the enslaved who built and maintained W&M's main campus and to preserve the stories of their descendants through the Oral History Initiative spearheaded by Highland.