My name is Gabrielle Names and I am a Senior year at the College of William and Mary in Williamsburg, Virginia. I am a double major in Biology and French. My interest in Conservation Biology and islan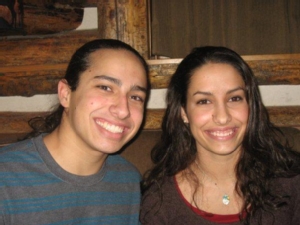 d dynamics prompted me to work in Hawaii Volcanoes National Park for two summers, the first as an Interpretive Ranger with the National Park Service and the second as a researcher with the U.S. Geological Survey. My passion for the French culture and language led me to study abroad in Montpellier, France during my Junior year, where I took classes in French culture and Biology.
After completing my undergraduate studies this May, I plan to begin graduate studies in Ecology in Paris, France in the fall of 2012. I would like to pursue a career in applied Conservation Biology research, perhaps as a civil servant with the National Park Service.
Capturing the 'I'iwi
Summary: My research explored the biological and cultural significance of the 'i'iwi honeycreeper of the Hawaiian Islands. I first learned about the bird in the summer of 2009, when I worked as a Volunteer Interpretive Ranger at Hawaii Volcanoes National Park, located on the island of Hawaii. After receiving funding to conduct an independent research project, I returned to the island the following summer to investigate the foraging and behavioral patterns of the 'i'iwi in conjunction with Wildlife Biologist Dr. Paul Banko of the U.S. Geological Survey.
I was captivated by the importance of the bird, both in a biological and cultural sense. My goal in writing this article was to demonstrate that iconic wildlife like the 'i'iwi define not only our natural ecosystems but also our communities and societies. I wanted to use the 'i'iwi as an example of the widespread effects that loss of biodiversity can have on many facets of our world. I also chose to study the 'i'iwi because, unlike a species such as the Giant Panda, it is not designated as an endangered species, even though it may not last another generation. I spoke with people of all backgrounds who have some type of contact with the 'i'iwi bird (whether they be Interpretive Rangers, Biologists, or Cultural Practitioners) to demonstrate the many ways this bird is important to the Hawaiian Islands, and to suggest how an 'i'iwi extinction would permanently change the fabric of the islands.
Read Gabrielle's entire article here.